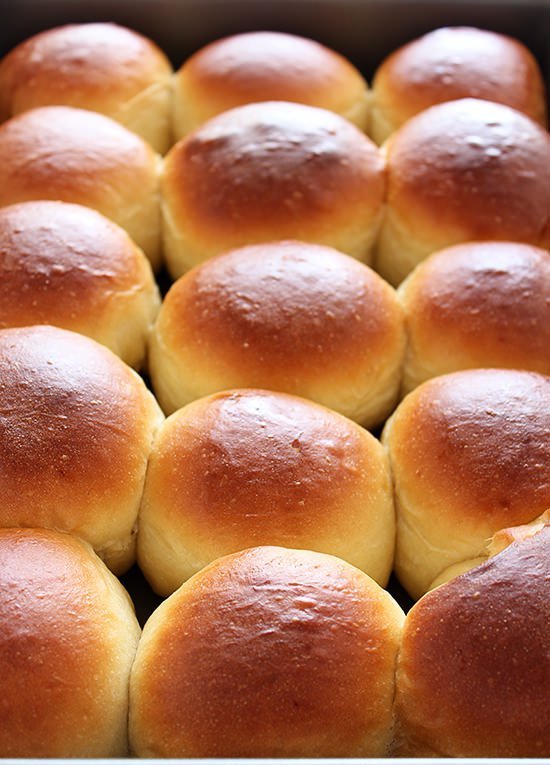 The months of November to about February have something about them that makes me want to accompany every meal I eat with some form of warm carbohydrate. My problem with most yeast breads is that I don't realize that I want to eat them until I pull out everything an hour before dinner to start the preparations. Homemade dough can be a big, long process, and recipes that involve several infusions and a 2-3 hour window of time require some planning – which is why I usually only make them on special occasions. So I use this recipe on these simple weekends when I want to prepare something quickly and have it ready in an hour to dip in a warm soup. If you are not a bread maker, this recipe is just right for you. You don't have to test the yeast, you don't have to let the dough rise more than once, and you don't even have to worry about shaping it nicely. This is as easy as possible and they are ready in about an hour (I always allow a little more time).
Ingredients
1 1/2 cups

 non-fat milk

3 tablespoons

 butter, cut into chunks

3 tablespoons

 sugar

4

– 

4 1/2

 cups all purpose flour, divided

1 tablespoon

 rapid rise/quick rise yeast (or if you have packets, one packet (

2 1/4 teaspoons

) will work just fine))

1 1/2 teaspoons

 table salt

1

 egg at room temp (place in a bowl of warm water for at least 

5

 minutes)
additional melted butter (a few tablespoons) for brushing on at end
Instructions
Preheat oven to 350 degrees.
Put milk, butter and sugar in a microwaveable container and heat for about 2 minutes. If this mixture should be between 120-130 degrees, for best results use a digital instant thermometer to measure the temperature.
While the mixture is heating, mix 3 1/2 cups of flour, yeast and salt in a mixing bowl. When the milk mixture is heated to about 125 degrees, add it to the flour mixture and start beating. Add the egg and continue beating until everything is mixed. Scrape the sides of the bowl and then add the rest of the flour, 1/4 cup at a time. I almost always add a total of 4 1/4 cups. The dough becomes very soft and sticky.
Put the rest of the flour on a cutting board or silicone mat (or extra flour if you have added everything to the dough) and scrape the dough out very carefully with a spatula. Dust the top of the dough with flour and then lightly tap the dough with your hands to form a rectangle.
Score the dough into sections (24 for the size of the rolls) and carefully form portions into balls. Place the dough in a 9×13 pan sprayed with non-stick spray. Allow the dough to rest for 20-30 minutes until it is puffed and almost twice as big.
Bake the rolls in a preheated oven for 15-20 minutes until golden brown. Remove from the oven and immediately spread with melted butter.