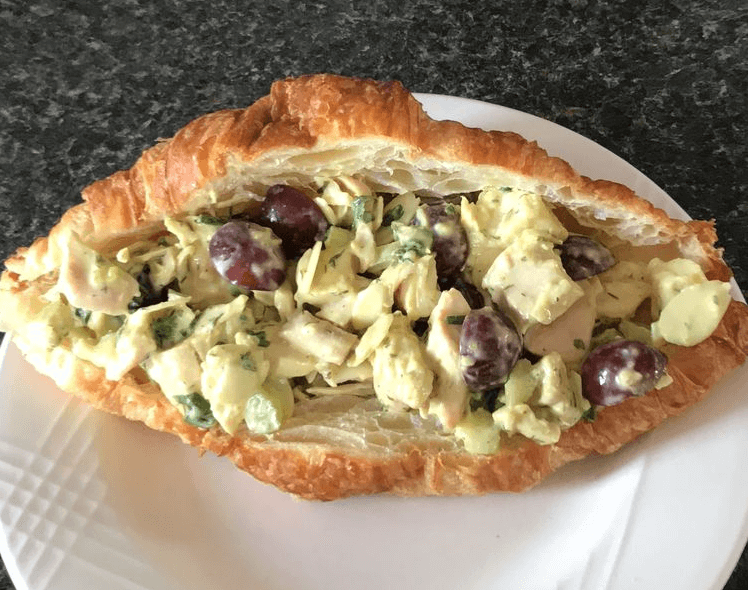 This is the BEST chicken salad recipe. It couldn't be easier or more delicious. With chicken, cranberries, apples and pecans, it's wonderful on its own or in a sandwich!
I want to be that person who invented egg salad and chicken salad. I want to say that this person deserves a gold medal. Delicious, versatile, classic. How do you make yours?
Even though this particular chicken salad has been around for a long time, I only discovered it a few years ago through my friend Kary.
We were hanging out at her house and one day she made it for lunch. I was practically fascinated by all the ingredients she mixed. It all seemed so strange… and yet so wonderful. I knew right away how much I was going to love it.
Ingredients
2 tablespoons of mayonnaise
2 tablespoons of plain Greek yogurt
1 teaspoon of Dijon mustard
1/4 teaspoon of onion powder
1/4 teaspoon kosher salt
1/4 teaspoon pepper
2 tablespoons dried cranberries
3 tablespoons of chopped pecans
1/4 cup diced Granny Smith apple
10 ounces (1 can) chicken breast, drained, cut into pieces
baby spinach leaves, optional
4 croissants or soft rolls, optional
Instructions
In a medium bowl, combine mayo, yogurt, mustard, onion powder, salt and pepper. Taste and adjust seasoning, if necessary. Gently add the cranberries, pecans, apple and chicken.
Eat as is or place on sliced croissants with spinach or lettuce.