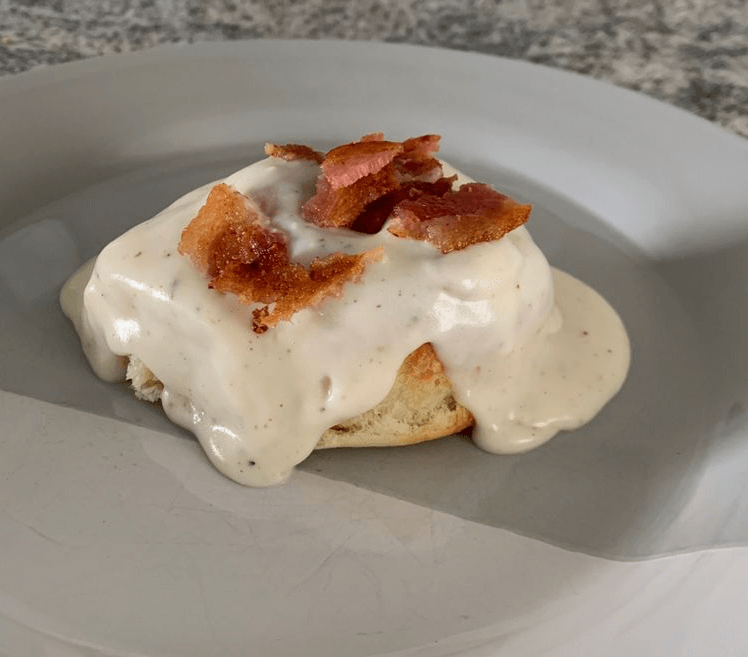 Nothing makes biscuits better than being smothered in a Southern-style bacon gravy. Delightful!
I just love it how people blame the recipe giver for their inability to make gravy. Even if you had her sitting right their next to you it wouldn't guarantee that you'd be able to make it!
Mine turned out great. I followed the tidbit that raouglysgirl gave: "If it's 2 Tbsp. of grease use 2 Tbsp. of flour and 2 cups of milk." I took note to pay attention to adding the flour and milk slowly.
I really wanted biscuits and gravy for dinner the other night but didn't have the sausage I normally use so I tried this recipe with bacon. I pretty much doubled all ingredients to make enough for my family.
Be sure to follow Raoulysgirl's advice about the grease/flour/milk ratio e.g. if you have 3 T of grease you'll need 3 T of flour and 3 cups of milk. It was perfect!
INGREDIENTS :
4 thick slices bacon
1 cup milk, or as needed
¼ cup all-purpose flour
1 pinch salt and pepper to taste
1 (10 ounces) can refrigerated biscuit dough
INSTRUCTIONS :
Step 1: Follow the package direction to bake the biscuits.
Step 2: In a deep skillet, cook the bacon over medium heat for about 10 minutes until crisp.
Step 3: Transfer the bacon onto a paper towel-lined plate but keep the grease in the pan.
Step 4: Slowly add in the flour into the pan while stirring until there are no lumps. Pour in the milk and continue to stir until thickened. Then, crumble the cooked bacon into the gravy. Before serving, season with salt and pepper.
Step 5: Cut the biscuits in half. Pour the gravy over the biscuits and serve. Enjoy!