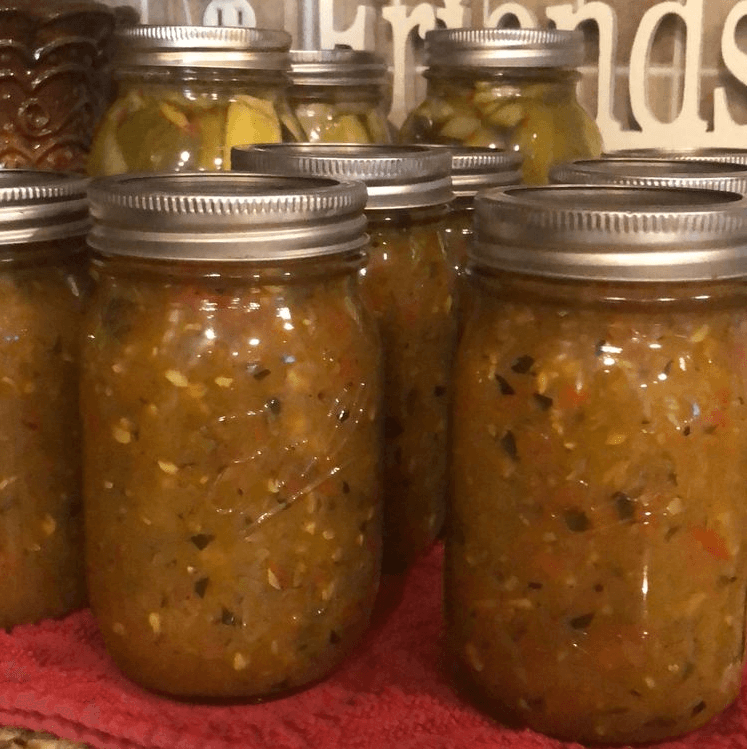 Preparation : 50 minutes | Cooking time : 1h10 | Complement : 10 hours | Total : 12 hours | Output : 7 pint jars
The zucchini is very famous in our house, everyone in my family loves it. This sweet zucchini relish is simple to work with, but it will take a day to finish it. It is also perfect for summer. Try making a version of this recipe for Sweet Zucchini Relish, and don't forget to enjoy it.
Ingredients :
12 cups raw zucchini
4 cups Raw onions
5 tablespoons of marinating salt
(1) Sweet peppers, red, raw; red bell pepper
(1) Sweet peppers, green, raw; green bell pepper
6 cups Sugars, granulated
2 cups of distilled vinegar ½
1 tablespoon of Cornstarch
¾ tsp Spices, nutmeg, ground
¾ tsp Spices, turmeric, ground
1 ½ cc Spices, celery seed
½ tsp Spices, pepper, black
Itinerary :
Add and place the zucchini and onions in a large non-metallic bowl and sprinkle the salt on top. To mix evenly, use your hands to spread the salt all over the zucchini. Cover and refrigerate overnight.
The next day, drain the zucchini in a colander and rinse well with cold water. Add and place the red and green bell pepper, sugar, vinegar and cornstarch in a large saucepan. Add the nutmeg, turmeric, celery seeds and pepper. Add and stir to mix, then add the drained zucchini. Bring to a boil over medium-high heat, then reduce heat to medium-low and simmer for 30 minutes.
In the meantime, sterilize (7) one-pint jars and their lids to preserve the sauce. Wrap the relish in the sterilized jars, making sure there are no gaps or air pockets. Fill the jars to the bottom and screw on the lids.
Add and place a rack at the bottom of a large pot and fill halfway with boiling water. Carefully lower the jars into the kettle using a rack, leaving a 2-inch space between the jars. If necessary, add boiling water until the tops of the jars are covered with 2 inches of water. Allow the water to boil, then cover and let stand for 30 minutes.
Remove the jars from the pan and place them on a cloth or wood-covered surface several inches apart until they cool. Once cooled, press a finger on the top of each lid to make sure the seal is securely in place and does not move up or down.
Nutritional Information :
Per serving: 46.9 calories; 0 mg cholesterol; 313 mg sodium; 0.2 g protein; 11.9 g carbohydrates.