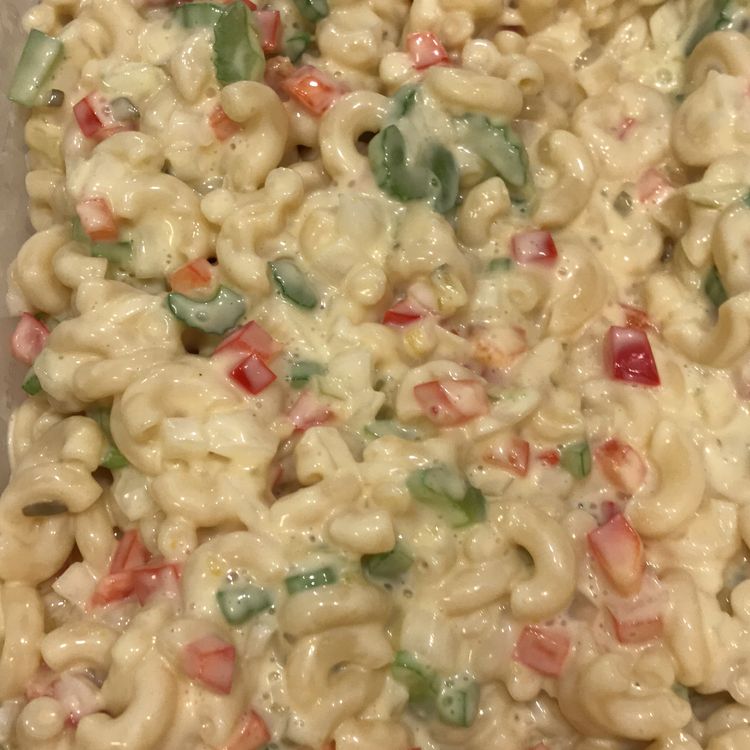 A colorful and flavorful macaroni salad made with hard cooked eggs, bell pepper and celery in a creamy dressing. Best macaroni salad I have ever had. I always get many requests for recipe. Enjoy!
What a wonderful, delicious recipe! I reduced the sugar a bit but next time will add even less. I think 1/4 or 1/3 cup will suit my families tastes. I had a hard time putting this recipe together since I found myself out of some ingredients.
Perhaps I should preface my review by saying I hate macaroni salad….just not a big fan, can easily walk away and not eat it. Yuck. My dad requested mac salad for Father's Day and I searched for the "right" recipe and found this.
This is the recipe I use every time I make mac salad! I use real mayonnaise, Miracle Whip doesn't exist in my kitchen. Green pepper instead of red, cut the sugar to 1/2 cup, and no pickle relish.
Just what I was looking for! I chopped a dill pickle, skipped the sugar altogether and added smally cubed sharp cheddar cheese. I also sliced the egg on top of the salad sprinkled with a bit of paprika sorta like a garnish.
Ingredients :
1 lb salad macaroni
4 hard-boiled eggs (chopped)
1 small onion, finely diced
3 celery ribs, diced small
1 small sweet pepper, seeded and diced small (red or orange)
Dressing
2 cups light mayonnaise (do not use Miracle Whip)
1/2 cup sugar
1/8 cup yellow mustard
2 tablespoons dill pickle relish
1 tablespoon white vinegar or 1 tablespoon apple cider vinegar
3/4 teaspoon celery seed
1/4 teaspoon salt
paprika (to garnish)
Directions :
Cook the macaroni according to directions, drain well.
While pasta is cooking mix up all the dressing ingredients till well blended and set aside.
Chop up all the veggies.
When macaroni has cooled and drained well mix in the dressing (add all of it if you like very creamy salad.if you don't like a lot of dressing leave out about 1/2-3/4 c of the dressing. Remember that as it sets it will soak up some of the dressing.
Refrigerate for at least one hour, the longer you let it set the better the flavor.