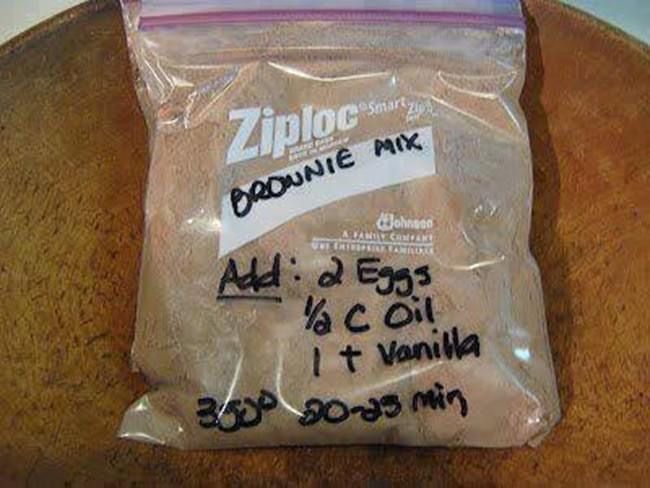 Never buy boxed brownie mix again! Follow the recipe below and make brownies for approximately 30 a mix!
This brownie mix is so simple, so easy. Not just frugal but cuts out the unknown ingredients. My kids love these brownies, they're always a hit. Great for bake sales, parties and school events. My kids love these, they're so delicious!
This mix stores well for a quite a while without going bad. So convenient to make! You can store in plastic bags or glass jars.
What is Brownie Mix?
When it comes to baking I also love convenience. And being able to dump stuff in a bowl and make magic. So this is my attempt to capture the ease of a box brownie mix but without the other icky stuff.
Brownie Mix Uses
This recipe tastes amazing and easily lends itself to adaptations. For instance, you can add any sort of chocolate chip, white chocolate chip, M&M's, Nutella, etc. You can also easily double the recipe or pair the brownie mix with frosting.
One thing to note, this brownie mix recipe is not huge. It yields 9 brownies. (Most people don't have five kids like me and prefer "normal" size pan of brownies.)
Another bonus? There are only three "wet" ingredients.
To Make this Recipe You'Il Need the following ingredients:
Ingredients
1 Cup sugar

1/2 Cup all-purpose flour

1/3 Cup cocoa

1/4 tsp salt

1/4 tsp baking powder

2 eggs

1/2 cup Vegetable oil1 tsp vanilla
Instructions
Put mix in plastic zip-lock bags or mason jars.

At Baking Time Add: Eggs, Vegetable Oil, and Vanilla.

Bake @ 350 degrees for 20-25 minutes in an 8×8 or 9×9 pan.

check after 12-15 minutes of baking and remove when brownies are done!