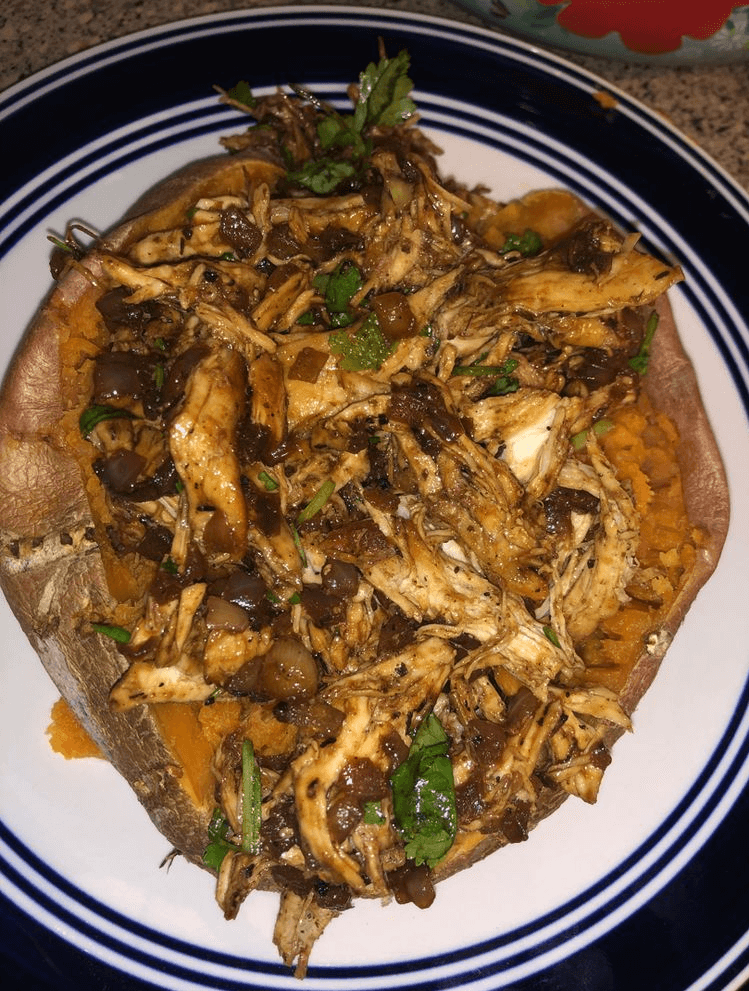 These stuffed sweet potatoes are easy to make and loaded with hearty vegetables and full of delicious flavor. This healthy recipe is vegan and can easily be adapted to paleo and Whole30.
EASY STUFFED SWEET POTATOES
Looking for a hearty, delicious, veggie-filled dinner that comes together with minimal effort? Say hello to your new favorite weeknight meal! These Stuffed Sweet Potatoes are made with a few simple ingredients and are a healthy and nutritious meal for the whole family.
These sweet potatoes are loaded with your favourite vegetables and topped with a tasty homemade avocado sauce. Every bite is a treat! You can also top them with crushed tofu and extra veggies if you're not on a paleo or Whole30 diet.
Ingredients
For the stuffed sweet potatoes
4 medium sweet potatoes, cleaned, rinsed and dried
1 onion, diced
2 cloves garlic, minced
1 zucchini, finely chopped
8 cremini mushrooms, thinly sliced
1 cup crumbled tofu, optional – leave out for Paleo and Whole30 diets or substitute with extra veggies or a scrambled egg if you are not vegan
1.5 tsp. smoked paprika
Pinch of chili powder or flakes
1 teaspoon ground cumin
Salt and pepper to taste
8 cherry tomatoes, cut into quarters
For the avocado sauce
1 medium avocado
2 handfuls of spinach
1 clove garlic
1.5 tablespoons nutritional yeast
½ teaspoon salt
3 tablespoons unsweetened almond milk
2 tablespoons of olive oil
Juice of one lime
Instructions
Preheat the oven to 400F.
Pierce the sweet potatoes all around and place them on a baking sheet.
Drizzle with a little olive oil, salt and pepper. Bake in the preheated oven for 40-50 minutes, until tender and fluffy.
In a medium skillet over medium heat, add the onions and sauté for 2-3 minutes, then add the garlic and zucchini.
Add mushrooms and cook for about 5 minutes, until softened and starting to brown. Add the crumbled tofu (if using), smoked paprika, cumin and chili powder and cook for a few more minutes. Add a little more oil or water if necessary.
Taste and season with salt and pepper. Remove from heat and prepare the avocado sauce.
Place all sauce ingredients in a blender and blend until smooth. Taste and season with pepper.
Once the sweet potatoes are cooked, cut them in half and top with the vegetable and tofu mixture, then drizzle with avocado sauce and quartered tomatoes.