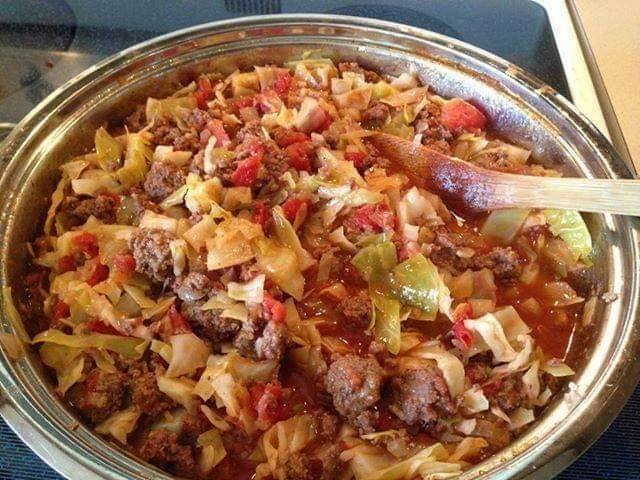 This stuffed cabbage rolls recipe is cabbage leaves filled with beef and rice, coated in a homemade tomato sauce and baked to perfection. A comfort food classic that's hearty, delicious and simple to make.
I've been eating stuffed cabbage since I was a child, and I've been working on this recipe for a long time to create the ultimate rendition of cabbage rolls. Serve your stuffed cabbage rolls with a side of mashed potatoes and broccoli, and watch the rave reviews pour in!
I grew up eating cabbage rolls, and I've had enough in my time to know the difference between a good cabbage roll and a less than stellar cabbage roll. My version of cabbage rolls features a flavorful beef and rice filling, and the rolls are cooked in a simple homemade tomato sauce for fabulous results.
Ingredients
2/3 cup water
1/3 cup uncooked white rice
8 cabbage leaves
1 pound lean ground beef
1/4 cup chopped onion
1 egg, slightly beaten
1 teaspoon salt
1/4 teaspoon ground black pepper
1 (10.75 ounce) can condensed tomato soup
Directions
In a medium saucepan, bring water to a boil. Add rice and stir. Reduce heat, cover and simmer for 20 minutes.
Bring a large, wide saucepan of lightly salted water to a boil. Add cabbage leaves and cook for 2 to 4 minutes or until softened; drain.
In a medium mixing bowl, combine the ground beef, 1 cup cooked rice, onion, egg, salt and pepper, along with 2 tablespoons of tomato soup. Mix thoroughly.
Divide the beef mixture evenly among the cabbage leaves. Roll and secure them with toothpicks or string.
In a large skillet over medium heat, place the cabbage rolls and pour the remaining tomato soup over the top. Cover and bring to a boil. Reduce heat to low and simmer for about 40 minutes, stirring and basting with the liquid often.