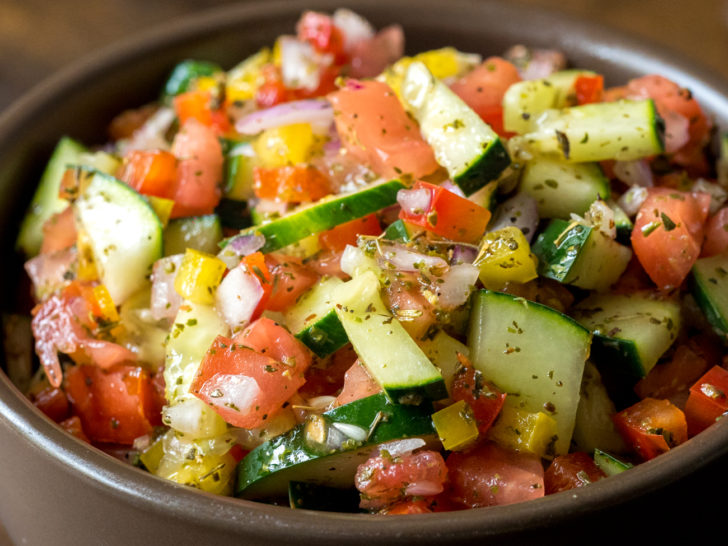 A good salad is a colorful and tasty salad, filled with bright vegetables that offer a delicious crunch, all topped with a dressing that brings it all together. Salads aren't limited to side dishes either; they're great as a meal when the right ingredients are added to make it hearty and satisfying. We love our version of the Moroccan salad for all these reasons: it's bright, tasty and super satisfying. A fresh vegetable salad with a simple lemon and herb dressing is exactly what we are looking for in a refreshing side dish.
It was the perfect recipe for an afternoon lunch with good friends. Everyone brought a little something to share, and this salad was the perfect accompaniment. Peppers, cucumbers, tomatoes and red onions were chopped and mixed, then drizzled with a simple vinaigrette and brightened up with a little fresh lemon juice. Alone is fine, but when you want a salad that makes a complete and satisfying meal, you add a little protein: chicken is excellent, or even shrimp. This salad is even better after a day or two in the refrigerator, as the dressing really soaks in the vegetables and takes on even more flavor.
Our Moroccan salad is such a crowd pleaser and if we are lucky enough to have leftovers, we put some in a mason jar for lunch the next day. It's so light and refreshing, just what we need on a hot summer day, but it's great any time of year. And herbs like parsley or mint add brightness, so add a little too, if your audience likes those flavors. A crisp and tasty salad is a great way to add a few vegetables to our daily meals, and when food looks and tastes this good, you want to eat it all the time!
Serves 4; 20 minutes
INGREDIENTS
2 large tomatoes, diced
1 large cucumber, diced
½ medium red onion, diced
2 bell peppers (any color), diced
Juice from 1 lemon (to taste)
1 ½ tablespoon Italian seasoning
4 tablespoons olive oil
Salt and pepper, to taste
PREPARATION
Toss tomatoes, cucumber, red onion, and bell peppers with Italian seasoning, lemon juice, olive oil, salt, and pepper.
Salad is ready to eat or refrigerate until ready to serve.