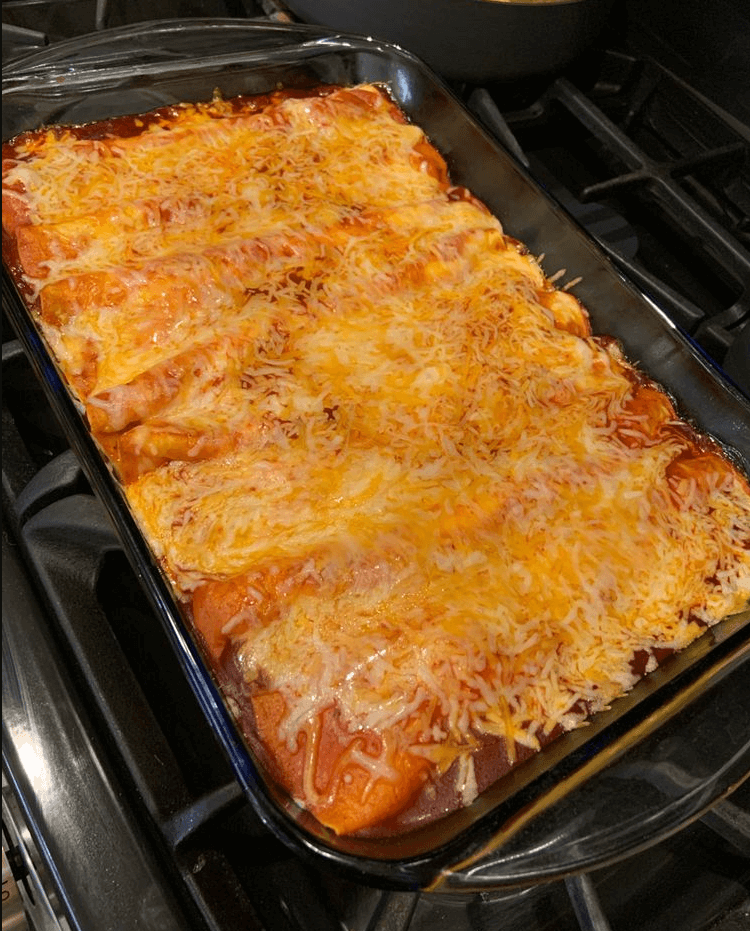 With all the plates we juggle in this life, it's never a bad time for a party that can cheer things up and spice things up a bit! Good food is such a fun way to travel the world when you feel like having a new experience, but not all of us have the time or extra resources to fly to the sunny sands of Mexico. So… we thought why not bring these exotic flavors to your home for a festive stay? Trying new things in the kitchen can really be a fun adventure, but we think it's also comforting to know that a recipe contains some proven ingredients that you can count on to deliver a masterstroke every time.
Cheese – who doesn't love it and how delicious it really gets when it's melted and sticky? You'll find delicious golden Mexican cheese on and in these enchiladas, as well as rich cream cheese mixed with hearty chicken seasoned with warm spices and fresh lime juice. It doesn't take much chicken either – just three grated cups! We also love the way the Latin flavors in this recipe speak to your tongue without being too spicy. The fresh feeling of fresh lime juice really balances the flavours of cumin and chili powder, and the canned green peppers give a sweet but tasty punch that can still stand out in a crowd.
Rolling enchiladas is pretty fast once you get the hang of it! After stuffing them and rolling them cigar-wide, all you have to do is snuggle them together in a baking dish. You can even assemble them the night before they're due to be eaten and put them in the fridge overnight, or freeze them for the day when you run out of food for dinner. It's also an easy recipe to make when you need to feed a crowd. It's convenient, isn't it?
When we made the sauce, we soon discovered that it had to be the last step to make sure it stayed smooth and fluid to pour over the enchiladas. It's rich and creamy, just the way we like it, and those little green chilies and chicken broth add even more flavour. Add a little cheese that turns brown and sparkling, and your mouth will water just thinking about it! This dish is truly a party, a celebration of super fun flavours that can take you to a happy place any day of the week.
Cream Cheese Enchiladas
30-40 minutes to prepare services 6-8
INGREDIENTS
8-10 flour tortillas
1 pkg. cream cheese, room temperature, divided [1/2 and 1/2].
1-2 cans of green peppers
3 cups cooked chicken, shredded
2 cups Mexican cheese mixture, grated, divided [1 cup; 1 cup].
2 cups low sodium chicken broth
3 tablespoons of unsalted butter
3 tablespoons all-purpose flour
1 tablespoon of lime juice
1 teaspoon cumin
1/2 teaspoon chili powder
Kosher salt and freshly ground pepper to taste
Fresh cilantro, garnish, optional
PREPARATION
Preheat the oven to 350º F and lightly grease a 9×13 inch baking dish with nonstick spray.
In a bowl, mix 1/2 cream cheese, chicken, 1 cup cheese, lime juice, cumin and chili powder, and season with salt and pepper, if desired.
Take 1 tortilla and fill with 2-3 tablespoons of chicken mixture, then place seam side down in baking dish. Repeat with remaining tortillas and filling.
In a medium saucepan over medium-high heat, melt butter. Whisk in flour and cook for 2 to 3 minutes or until golden brown.
Season with salt and pepper and gradually whisk in chicken broth and green chilies. Stir in the remaining half of the cream cheese and cook for 5-7 minutes or until thickened.
Remove from heat and pour green pepper sauce over enchiladas.
Garnish with remaining cheese.
Place the baking dish in the oven and bake for 22-25 minutes, or until the cheese and filling are melted and bubbling.
Optional: broil for 3-5 minutes, or until the enchiladas are lightly browned.
Remove from oven and let stand and set for 10-12 minutes.
Garnish with fresh cilantro, optional