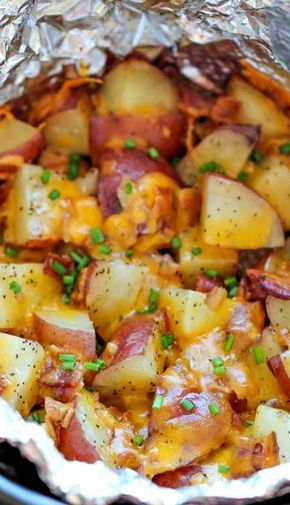 Perfectly tender and full-flavoured Cheesy Bacon Ranch Potatoes. All the flavours combined with cheese and bacon to create these perfectly tender and delicious potatoes.
Potatoes are a favourite side dish all year round! Try these garlic Parmesan Roasted Potatoes, Pesto Parmesan Crunchy Potatoes or these garlic Parmesan foil potato pouches for more delicious ways to enjoy potatoes.
Bacon and Cheese Ranch Potatoes
It was the first time I cooked potatoes in a slow cooker. They reminded me of aluminum foil potatoes for dinner. Perfectly tender and full of flavour. I can't even describe how amazing they are! A delicious accompaniment to any meal! They're easy to clean, tender and delicious, and full of flavour.
Ingredients :
6 slices of bacon
3 pounds red potatoes, chopped
1 1/2 cups shredded cheddar cheese, divided
1 tablespoon of Ranch seasoning and dressing mix
2 tablespoons chopped chives
Itinerary :
Preheat the oven to 400 degrees. Line a baking sheet with aluminum foil.
Spread bacon in a single layer on the prepared baking sheet. Place in oven and bake until bacon is brown and crispy, about 12-14 minutes. Cool before crumbling; set aside.
Line a slow cooker with aluminum foil, leaving enough room to wrap the potatoes and spray with non-stick spray. Place an even layer of potatoes in the slow cooker. Top with cheese, ranch seasoning and bacon, repeating 2 times and reserving 1/2 cup of the cheese.
Cover potatoes with aluminum foil and cook over low heat for 7-8 hours or high heat for 3-4 hours. Sprinkle with the remaining 1/2 cup of cheese. Cover and cook until cheese is melted, about 1-2 minutes.
Serve immediately, garnished with chives.