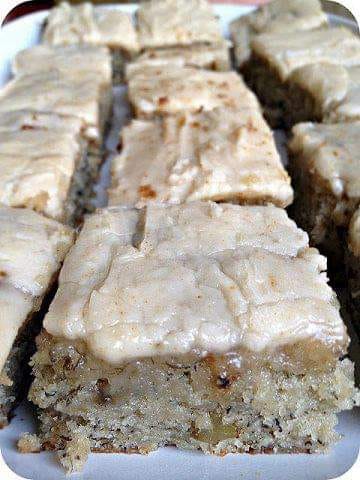 This recipe for banana bread bars with brown butter glaze is so amazing that you'll want to eat the whole thing. The banana bread bars are moist and full of flavour and the brown butter glaze is absolutely delicious. Your family and friends will love you for making this tasty dessert!
I wish I could take credit for this recipe for Banana Bread Bars with Brown Butter Frosting, but I can't. I've been trying to make a banana bread bar with brown butter frosting for years. It's absolutely BRIGHT. When Pinterest came out, I found this recipe in Life's Simple Measures. It was one of the very first Pinterest recipes I tried and I loved it.
Life's Simple Measures is a great blog site with lots of great recipes such as blueberry pie bars and butterscotch cream muffins. You should check it out. But let me tell you about its Banana Bread Bars…. OMG !!!!
Ingredients
1-1/2 c. sugar
1 spoon of sour cream
1/2 tablespoon butter, softened
2 eggs
1-3/4 (3 or 4) ripe bananas, pureed
2 teaspoons of vanilla extract
2 c. all-purpose flour
1 teaspoon baking soda
3/4 teaspoon of salt
1/2 c. chopped walnuts (optional)
Recipe for brown butter glaze :
1/2 c. butter
4 c. powdered sugar
1-1/2 teaspoon vanilla extract
3 tablespoons of milk
DIRECTIONS
1. Heat the oven to 375F. Grease and flour a 15×10 inch jelly pan. For the bars, in a large bowl, beat together the sugar, crème fraîche, butter and eggs until creamy. Stir in the bananas and vanilla extract. Add flour, baking soda, salt and mix for 1 minute. Stir in the nuts.
2. Spread the batter evenly in the pan. Bake for 20-25 minutes or until golden brown.
3. Meanwhile, for glaze, heat butter in a large saucepan over medium heat until boiling. Allow the butter to take on a delicate color and remove from the heat immediately.
4. Add powdered sugar, vanilla extract and milk. Whisk until the mixture is smooth (it should be thicker than the icing but thinner than the glaze). Using a spatula, spread the brown butter icing over the hot bars (the icing will be easier to spread while the bars are still hot).