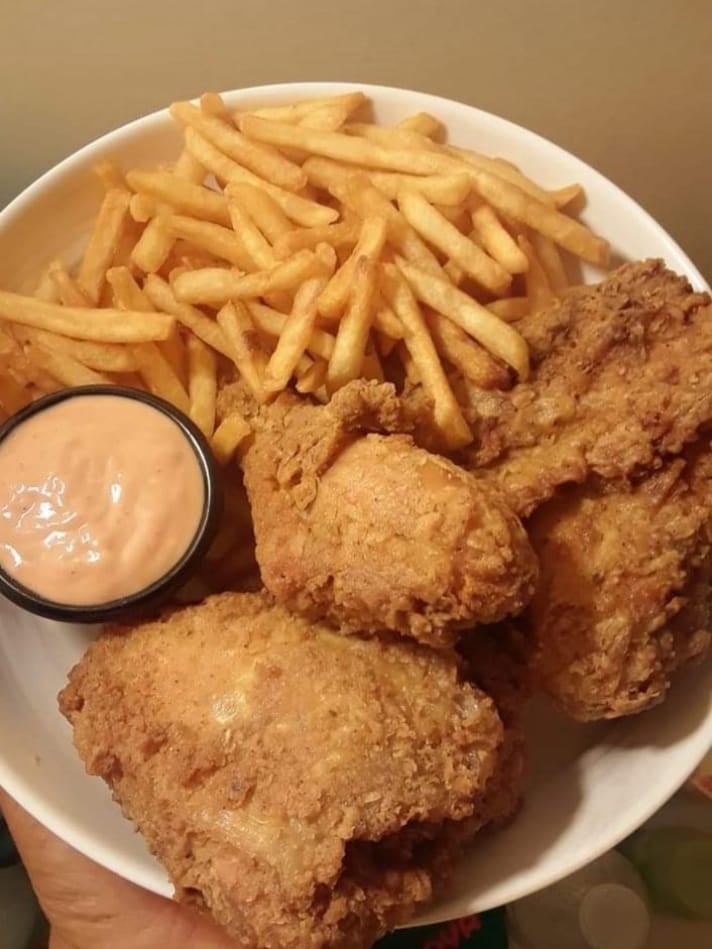 Ingredients Related Tips
1 C. milk
2 T. pickle juice
1 tsp. Tabasco sauce
1 egg, beaten
2 C. flour
1/2 tsp. paprika
1/2 tsp. garlic powder
1/4 tsp. onion powder
1/4 tsp. ground sage
1/4 tsp. cayenne pepper
1/4 tsp. black pepper
1/4 tsp. salt
1/4 tsp. oregano
Directions
Combine milk, egg, Tabasco and pickle juice.
Throw the chicken in with it and marinate for 1 hour in the fridge.
Combine all remaining ingredients in another bowl for dredging.
Now I used a deep fryer, but you can use an iron skillet and heat oil to 350 degrees.
Dredge the chicken in the flour, back to the mixture it was marinating in and then back into the flour.
Place on a cookie sheet and continue with the remaining pieces.
Let sit for 5 minutes before frying.
Place 2-3 pieces at the time in the fryer and cook for 7-8 minutes boneless or 10-12 bone in turning as you go. Just make sure the internal temp. is 160 degrees'.
You can heat the oven to 250 degrees and place the chicken on a cooling rack over a cookie sheet to stay warm and crisp while finishing up the rest.