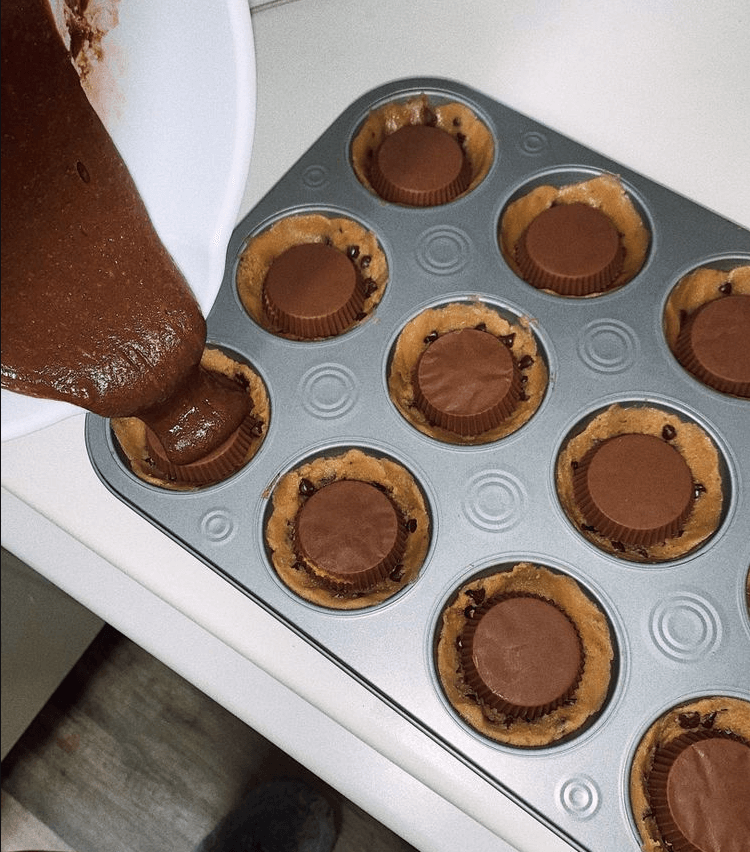 If you're looking for quick and easy chocolate and peanut butter desserts, these peanut butter-filled brownies and cookies are incredibly delicious and fun to make. The BEST dessert recipe of all time! They'll do more than meet your sweet tooth expectations, but the best part is that they're quick and easy to make with simple ingredients.
These wonderful little chocolate desserts require only 3 store-bought ingredients, plus the oil and egg needed to make the chocolate brownie batter. I also like to serve them hot with vanilla ice cream or whipped cream, because why not? They remind me of a chocolate lava cake or a pizookie, but they are much easier to make with a muffin tin.
Peanut butter filled brookies
1 bag of brownie mix (plus oil and egg for the dough)
1 (pack of 6) cups of Reese's Peanut Butter (12 cups total)
1 package of refrigerated cookie dough (16oz)
Instructions :
Preheat your oven to 350
degrees and generously grease a normal sized muffin tin.
Prepare brownie mixture according to package instructions; set aside.
Separate cookie dough into 12 equal balls and crush them into the bottom of each muffin pan.
Place a Reese's Peanut Butter pan upside down on top of the cookie dough.
Spread the brownie batter evenly over the top of each peanut butter pan until the wells are about 90% full.
Bake for 18-20 minutes or until brownie dough is cooked through.
Let cool for about 5 minutes before removing from the pan, then enjoy while still hot.
Full pot spring