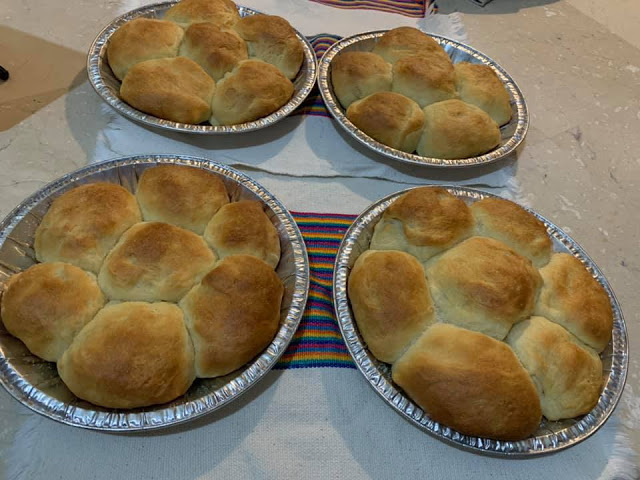 Yep, the most fundamentally satisfying of all foods!! This buttery, soft, yeast rolls taste perfectly with fruit jam and butter ! Plus, perfect for after-Thanksgiving turkey sliders, just try it !
YOU'LL NEED :  
– Whole milk: 260 gr
– Rapeseed oil: 70 gr
– Vanilla sugar: 1 bag
– Flour: 380 gr
– Sugar: 60 gr
– Salt: 5 gr
– baker's yeast: 1 sachet
DIRECTIONS : 
1. To begin with, warm the milk for 25 seconds in the microwave, do not heat it, the yeast will be killed!!)
2. Afterwards, melt the baker's yeast in the lukewarm ugly, about 10 minutes.
3. Pick a bowl and mix in the flour, sugar, salt and vanilla sugar together.
4. You'll want to add the oil and mix well.
5. Then add, very gradually, the milk / yeast.
6. It's important to knead until a homogeneous and smooth dough is obtained.
7. Once  homogeneous and smooth, you may place the ball of dough in a salad bowl, cover with a tea towel.
8. Your oven should be under 180 °.
9. It should be left to rest for 1h30 (in a warm place) untill the dough is doubled in volume.
10. Butter the mold, then on the lightly floured work surface add a baking sheet.
11. I always degas the dough with the palms of my hands.
12. At this point, you should divide and form regular dough balls and place them in your mold, spacing them slightly.
13. Always remember to let stand 20 minutes, and use a brush to brush your brioche with milk.
14. Alright now, make sure to bake for about 25 minutes.