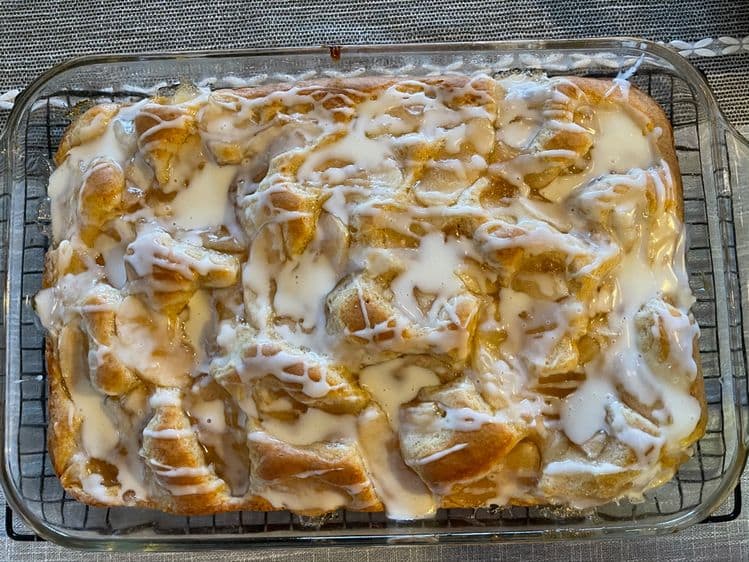 The cake was super easy to put together, I used two previously frozen bananas as CDabis suggested. I didn't have any coconut so I left it out and I substituted chopped walnuts for the pecans. It was done in less than an hour so I suggest you check on it after 35 minutes. I will definitely make this again.
This recipe came to me by way of my brother. I enjoyed it at his home and asked for the recipe. It has become a standard dessert in our home. I enjoy it plain and sometimes I warm it up and put a big scoop of vanilla ice cream on it. Either way, it is delicious.
I made this cake with no adjustments 3 days ago. My ladies card club all wanted the recipe and raved about the taste. I have another one in the oven in a bundt pan now. My husband wanted to try it too! Thanks for the recipe. Sue
Mix together for about 4 minutes:
   3 – eggs
  1 – 18 oz Yellow Cake Mix 

(No, this isn't a mistake, there is nothing else to add)
Add to mix and fold gently together:
   1 – 15 – 20 oz can Apple Pie Filling *
Pour into a 9″ x 13″ greased pan.
In a seperate bowl, mix the topping:
   3/4 Cup brown sugar
   1 Tablespoon cinnamon
   1/2 Cup chopped nuts
Sprinkle over the batter and marble into the batter.
Bake at 350 degrees for 35 minutes.
Icing (optional) mix together and drizzle over hot cake:
   3/4 Cup powderd sugar
   5 teaspoons milk
* Use any canned pie filling.