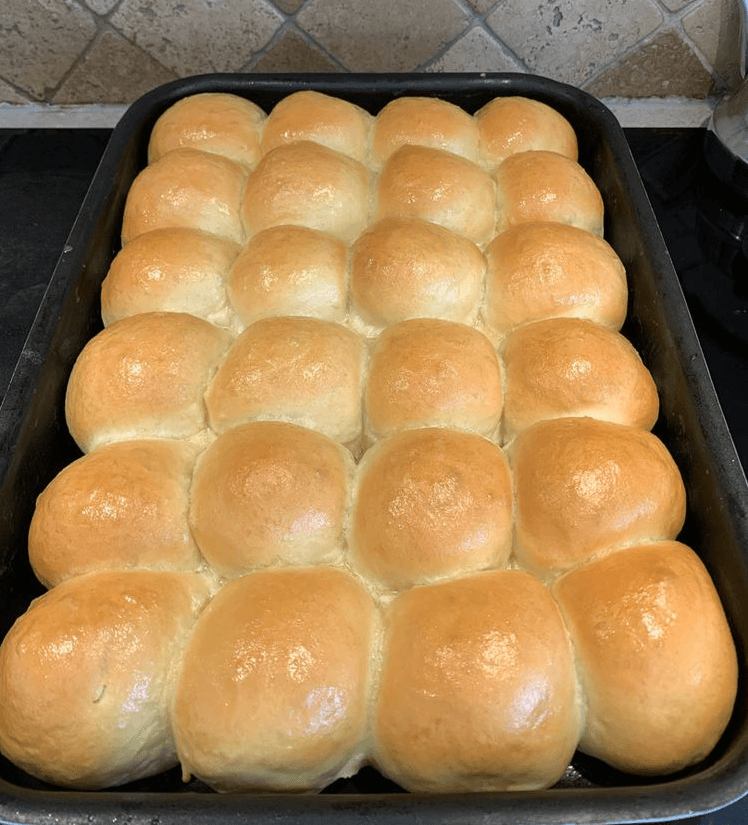 60 Minute Dinner Rolls are soft and tender yeast dinner rolls that can be made from scratch – start to finish – in just one hour! A great easy dinner roll recipe.
What smells better than freshly baked bread (other than freshly baked cookies)? There's pretty much nothing that smells better.
So, when we want fresh bread, but I didn't plan ahead and start a loaf of no-knead bread the night before, this is my go-to recipe.
These 60 Minute Dinner Rolls are quick and tasty, and, from start to finish, they're ready in about an hour (hence the name).
These are the perfect rolls for those nights when you want dinner ready.
No one will ever guess that they didn't take you hours of kneading, rising, and prep.
Ingredients:
3 1/2 cups plus 2 tablespoons flour
1 cup milk, lukewarm
4 tablespoons butter, melted
1 tablespoon sugar
1 package instant yeast
1 1/2 teaspoon salt
Cooking spray for pan
Directions:
In bowl, add all ingredients and knead to make a smooth, slightly sticky dough, about 6-7 minutes
Make a ball and place it in a greased bowl
Cover and let rise until double in size
Spray a 12 cup muffin tin with
When the dough has doubled, punch it down and divide it into 12 parts
Now divide each part into two equal-sized pieces and roll each piece into a ball
Place two balls, seam side down, in each muffin cup
Cover the muffin tin and let rise again until double in size
Bake @ 350 for 20-25 minutes or until the rolls are golden brown
Remove rolls from oven and brush with melted butter
Let cool on wire rack