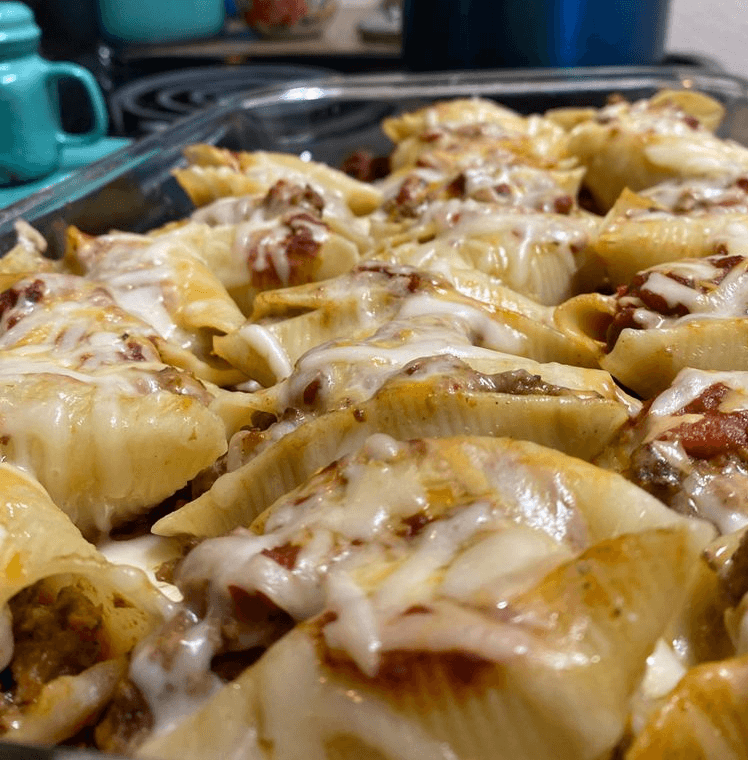 MEXICAN STUFFED SHELLFISH ARE A DELICIOUS COMBINATION OF MEXICAN FLAVORS AND PASTA, WITH SEASONED GROUND BEEF AND STICKY CHEESE, IT'S A DINNER THAT EVERYONE WILL LOVE!
These Mexican stuffed shells are a fun variation of the traditional Italian style stuffed shells, usually filled with a mixture of cheeses and topped with marinara sauce and mozzarella cheese. Instead, these shells are filled with a mixture of ground beef and cream cheese, cooked in a bath of enchilada sauce and salsa, and topped with cheddar cheese.
HOW DO YOU MAKE STUFFED MEXICAN SHELLS?
Mexican stuffed shells can be prepared and ready to eat in an hour or less. You will first boil your jumbo pasta shells according to the instructions on the package of al dente noodles, which should take about 10 minutes. Drain them when they are done cooking.
While the noodles are cooking, sauté your diced onions and ground beef until cooked through. Drain off excess fat. Then add a little taco seasoning and half a block of cream cheese.
Ingredients
1 pound ground beef (or ground turkey)
1 packet of low sodium taco seasoning
4 ounces of cream cheese
16 jumbo pasta
1 1/2 cups salsa
1 cup taco sauce
1 cup cheddar cheese
1 cup Monterrey jack cheese
For trimmings :
3 green onions
Sour cream
Instructions
Preheat the oven to 350°.
In a frying pan, brown ground beef; add taco seasoning and prepare according to package instructions. Add cream cheese, cover and simmer until cheese is melted. Stir and mix well. Set aside and cool completely.
While ground beef is cooking, cook pasta shells according to package instructions; drain. Place the shells individually on a cutting board or baking sheet so that they do not stick together.
Pour the salsa into the bottom of a 9×13 baking dish. Stuff each shell with 1-2 tablespoons of the meat mixture. Place the shells in a 9×13 baking dish, open side up. Cover the shells evenly with the taco sauce. Cover the dish with aluminum foil and cook for 30 minutes.
After 30 minutes, add the grated cheese and bake for another 10-15 minutes without the foil. Cover with green onions or olives if desired. Serve with sour cream and/or more salsa!