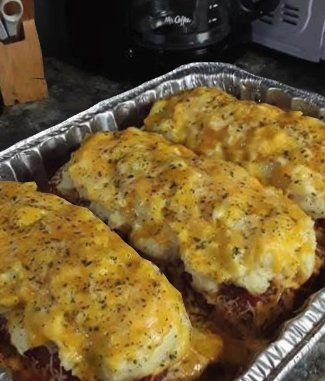 Loaded Mashed Potato Meatloaf Casserole is an easy kid-friendly casserole with meatloaf base, loaded mashed potatoes, bacon and cheese baked until crispy.
When it comes to homestyle meals, you can't go wrong with classic Meatloaf topped with Loaded Mashed Potatoes. This casserole turns a classic comfort food into a quick and easy Dinner Recipe the kids will love!
Casseroles are a weeknight meals many families love to make. They are easy, the kids love them, and clean up is a breeze, since they rarely need more than a few dishes. This Loaded Mashed Potato Meatloaf Casserole is no exception and comes together with in an hour without destroying your kitchen.
This Meatloaf Casserole is like a "Cowboy Shepherd's Pie". Fluffy mashed potatoes that have been loaded with cheese, bacon topping a classic meatloaf recipe, all the flavors kids love! Plus calling it a Cowboy Meatloaf Casserole gets kids to gobble it down.
For Ingredients And Complete Cooking Instructions Please Head On Over To Next Page Or Open button (>) and don't forget to SHARE with your Facebook friends