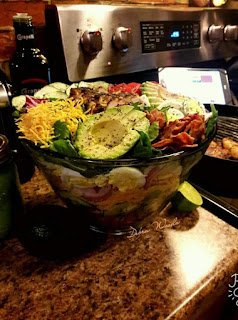 10 facts about salad:
1. Salad comes from the Latin word "herba salta" or "salted herbs," so called because such greens were usually seasoned with dressings containing lots of salt.
2. Lettuce is a member of the sunflower family.
3. The lettuce we see today actually started out as a weed around the Mediterranean basin.
4. Christopher Columbus introduced lettuce to the Americas.
5. The original wild lettuce "Lactuca serriola" was known as "prickly lettuce" and grown for medicinal purposes as it contained a milky sap which has mild sleep-inducing properties.
6. Lettuce is the second most popular fresh vegetable in the US behind potatoes.
7. The average American eats approximately 30 pounds of lettuce each year, which is five times what was eaten in 1900.
8. Lettuce was first eaten by the ancient kings of Persia 2,500 years ago.
9. The ancient Greeks and Romans thought that eating lettuce helped you to have a good night's sleep.
10. In ancient Egypt, lettuce was considered to be a powerful aphrodisiac and was thus sacred to the fertility god Min.
Hey y'all, This is a 7 layer salad I made a couple of months ago! So easy and delicious
Grilled boneless chicken breast
Baby spinach
Tomatoes
Avacado
Red onion
Boiled eggs
Bacon
Shredded cheese
Prep the Layer your ingredients leaving some of each to top the salad for presentation
Directions :
Prep the Layer your ingredients leaving some of each to top the salad for presentation
Avacado ranch dressing:
I mashed up an avacado, squeezed a little lime juice on it, stirred in a about a 1/3 cup of mayo, 1/4 cup of sour cream, 1/3 cup buttermilk, a splash of red wine vinegar. Add a dash of salt, a healthy pinch of black pepper, 1/8 tsp fresh chopped dill, 1/4 tsp garlic and onion powder and a tablespoon of fresh chopped parsley. Shake vigorously in a mason jar. Chill and serve. It is delish😉 My measurements are not exact in that I believe every good cook should rely more on taste to determine how much of a spice to add. I am a true home cook and that means a teaspoon to me is to cup my hand a pour til the groove is filled. Give it a try! It's actually a teaspoon.
ENJOY!
Go To Next Page For Instructions