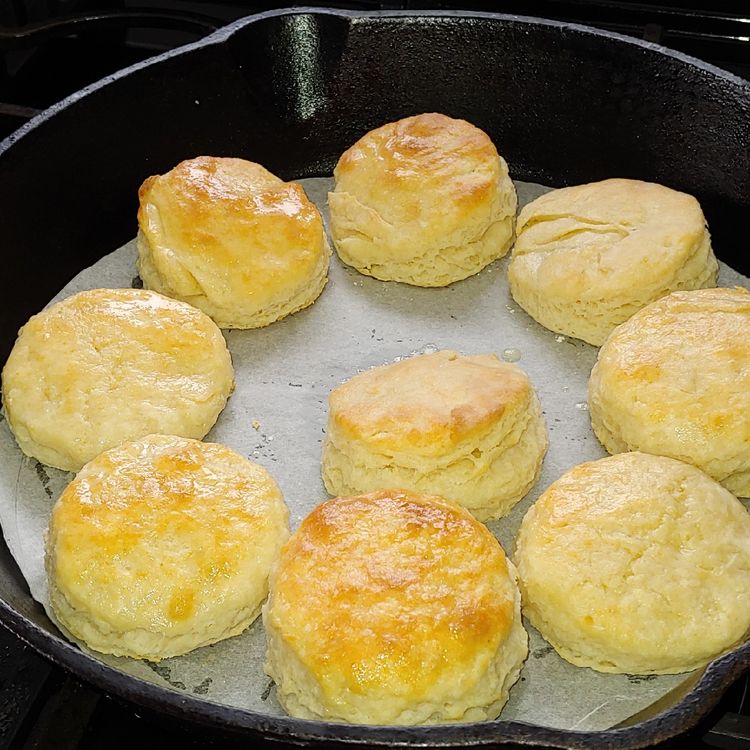 Light and fluffy and the closest thing I've found to my grandmother's biscuits. Delicious for jams, butter, honey, corn syrup, or just great bread for any meal. My grandmother used to make them pretty much every day.
Because I don't have lard, I used vegetable shortening (Crisco). I saw the submitter's suggestion to add two teaspoons of baking powder which is good because if I hadn't seen that, I don't think they'd have turned out as well.
Holy Cow! Best biscuits I've had in twenty years. These really are southern style. No, its not health food, or gluten free, or made with canola oil, but man if you love authentic southern style biscuits, these are it!!
Just made these tonight, all I can say is, they turned out PERFECT. Thank you for the recipe, I changed NOTHING!
I loved these biscuits. Mine usually come out "ok-ish", nothing special. These, however, made me feel like i've finally found THE recipe! They are so light inside but with a ever so light cruntch on the top. Thanks for this great recipe!!
Ingredients
4 cups Self-Rising Flour, sifted
1 ½ cups Buttermilk
¼ cup Lard
Directions
*Preheat oven to 500ºF..
Lightly grease a baking pan or skillet with lard or butter.
Fill a sifter with flour, about 4 cups. Sift flour into a large wide bowl.
Make a well in the middle of the flour with your hand.
Add Lard
Add Buttermilk
Squish the lard and buttermilk together with your fingers until lard is in small clumps.
Place fingers straight down into the center of the bowl and start making small circles.
Continue to stir, in small circles, while gradually working in flour from the sides of the bowl.
You'll work in most of the flour but probably not all it.
Sprinkle the dough ball with more flour and fold dough over on top of itself a time or two.
Knead the dough only a few times until it's fairly smooth then shape into a rectangle.
Clean any dough off of your hands before proceeding.
Flour both hands prior to starting to shape and form the biscuits.
Use your fingers and pinch off a section of dough just a little larger than a golf ball.
Roll this ball in the palms of your hands to smooth it out using slightly firm pressure at first and then lighter pressure as it becomes a bit sticky again. Try not to over work the dough at this point.
Drop the ball back in the flour and coat lightly with flour.
Roll the ball in the palm of your hand another second or two and then flatten it like a hamburger patty.
Place the biscuit dough on your greased baking sheet or in a cast iron skillet.
Sides should be touching for a softer biscuit edge or separated one inch for a crispy edge.
Repeat the process until the dough is used up or your skillet is filled.
Use the back of your fingers and gently press down on each biscuit.
Place the pan of biscuits in the preheated oven and bake 8-12 minutes or until lightly browned on top.
* You can brush melted butter on top if you like.
** 🥰On a personal note,my grandma would make the children "snake" biscuits using the last bit of dough. Just a memory from my childhood! 😀