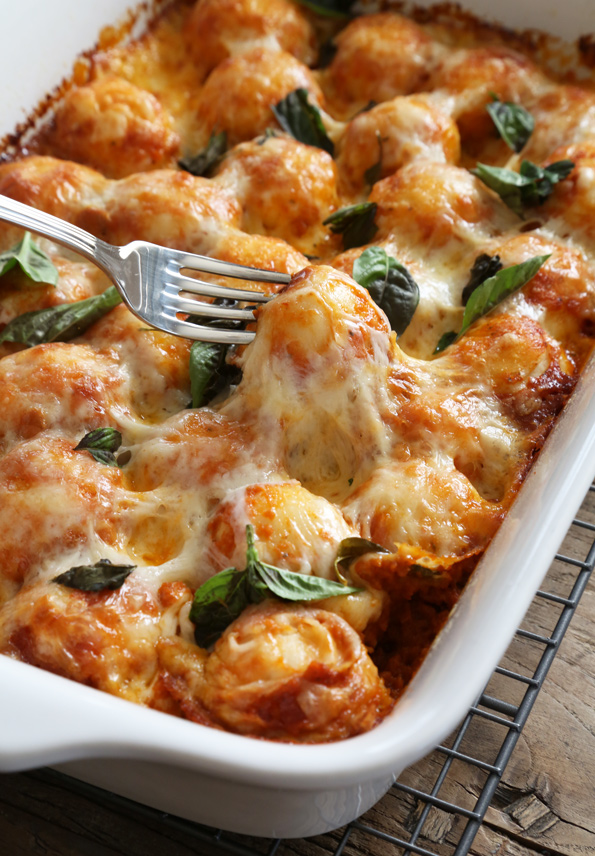 WHAT YOU'LL NEED
3 to 4 cups tomato sauce
1 recipe Thick Crust Gluten Free Pizza Dough from GFOAS Bakes Bread, with 2 teaspoons (6 g) instant yeast in the dough stage, instead of 1 1/3 (4 g) instant yeast in the original recipe, prepared through the first rise*
2 ounces Parmigiano-Reggiano cheese, finely grated
12 ounces mozzarella cheese, shredded
8 to 10 leaves fresh basil (optional), torn by hand
*Note: If you prefer, rather than allowing the dough its first rise for at least 12 hours in a sealed container in the refrigerator before working with it, you may make and use the pizza dough on the same day. It will not be as easy to handle, however, but you can work with it. To use the dough the same day it is made, after making the dough, set the covered dough to rise in a warm, draft-free environment to allow it to rise to double its size (about 1 hour). Once it has doubled, place it in the refrigerator for at least 15 minutes or until it is chilled. This will make it much easier to handle. Then, continue with the rest of the recipe instructions.
HOW TO MAKE IT
Grease a 9-inch x 12-inch oven-safe casserole dish, and cover the bottom of the dish with about 3/4-cup of the tomato sauce.
Cut off pieces of the risen and chilled pizza dough that are about 3/4-ounce each, and roll loosely into rounds about 1-inch in diameter. You don't want to pack down the dough. Place each of the pieces of dough, about 3/4-inch apart, on top of the sauce in the casserole dish. Cover the dish with a piece of lightly oiled plastic wrap, and set aside in a warm, draft-free location until the pieces of dough have risen to about 1 1/2-times their original size (about 30 minutes). As the dough is nearing the end of its rise, preheat your oven to 350°F.
Once the dough has finished rising, uncover the dish, mix the Parmigiano-Reggiano cheese with 2 cups of tomato sauce and cover the risen pizza dough completely with the sauce. Add more sauce if necessary to completely cover the dough. Sprinkle about half of the grated mozzarella cheese evenly over the top, sprinkle with about half of the torn basil, and place in the preheated oven. Bake for 15 minutes. Remove from the oven, sprinkle evenly with the remaining mozzarella cheese and return to the oven. Continue to bake until the cheese is melted and the pizza dough is cooked through (about another 10 minutes). Remove from the oven, allow to sit briefly for the cheese to set, sprinkle with the remaining torn basil, and serve.
We have more recipes for you, you may like the following ones