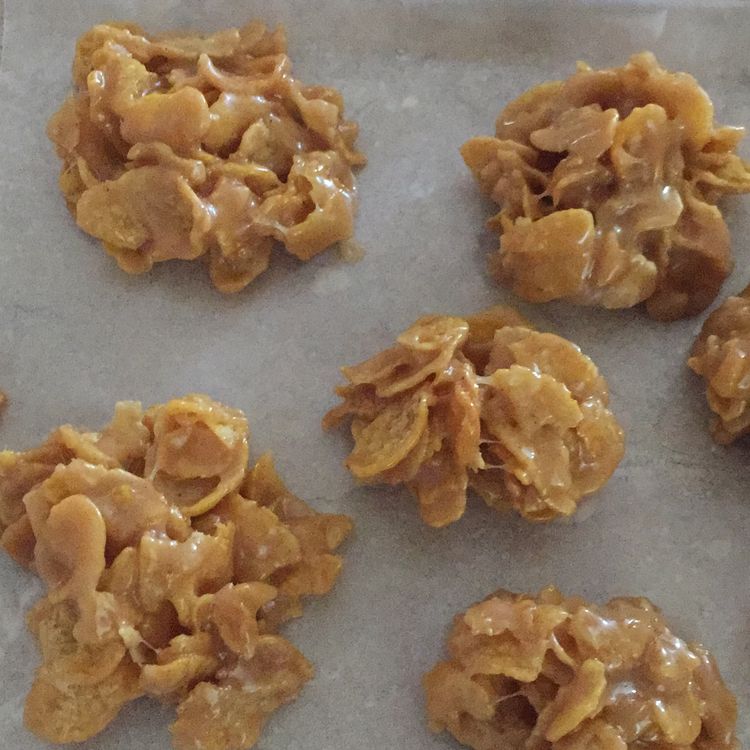 These cookies remind me of peanut butter fudge. My Grandmother made them for us, and now I make them for my family. There is nothing healthy about this recipe but it is a great sweet-tooth fixer.
Simple and quick – the perfect go to recipe when you need a little treat! I also make these with 1/2 cup butterscotch chips & 1/2 cup peanut butter melted together and 3 cups of corn flakes.
Great Recipe! Mine came out wonderful! I made one change. I used maple syrup instead of corn syrup. I also put them in the fridge when I was done putting them into individual cookies so they were ready faster.
i use to make these and had lost my recipe these cookies are so good and easy to make you can use chunky peanut butter if you want to but they are good just like they are
Loved this it was fast and easy to make! I was looking for a sweet treat using only stuff I had on hand! This made the cut! I did add a couple things to it.
Very easy and came out great. I was worried it would be too sweet but the peanut butter balances out the sweetness nicely! I used maple syrup instead of corn syrup and actually forgot to include butter.
INGREDIENTS :
½ cup white sugar
½ cup light corn syrup
2 tbsp butter
½ cup peanut butter
3 cups cornflakes cereal
Directions
Step 1: Line a baking sheet with waxed paper. Bring the sugar and corn syrup to a boil in a saucepan over medium heat; stir in butter and peanut butter until thoroughly mixed, and remove from heat.
Step 2: Place the corn flakes into a large bowl, and pour the peanut butter mixture over the cereal. Mix until the corn flakes are coated with the mixture. Drop by tablespoon onto the waxed paper; flatten slightly if desired. Allow to cool before serving.
Nutrition Facts
Per Serving:
84.7 calories; protein 1.5g 3% DV; carbohydrates 13g 4% DV; fat 3.5g 5% DV; cholesterol 2.4mg 1% DV; sodium 58.6mg 2% DV.