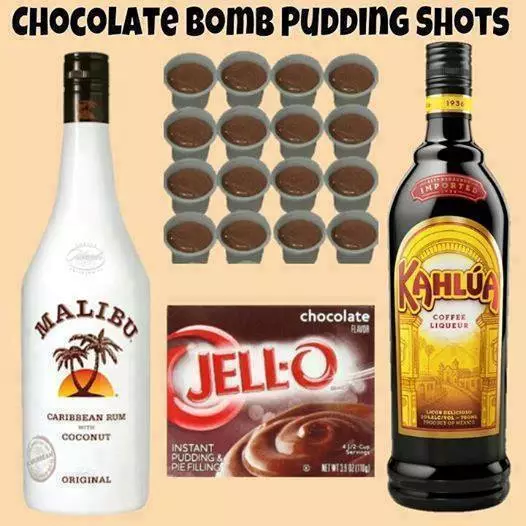 Welcome to the wonderful world of Chocolate and Alcohol.
If you like this or any recipe, please feel free to Like & SHARE it to your own page, or a friends page, so it's easy to find when you want it! NOTICE I said SHARE. This means we will not tolerate anyone reposting our recipes and/or photos on any Web, Blogs, Social Media, etc. without including a link to our specific page or SHARING the post so it directly links back to us. We have spent time and money developing the recipes and do own them.
Ingredients:
Sm Chocolate Instant Pudding
¾ c Kahlua
¾ c Coconut Rum…
4oz Cool Whip (Extra Creamy preferred but not required)
Directions:
Whisk Kahlua and Instant Pudding together until as thick as it will get (1-2 minutes). Once it has thickened, add Liquor and whisk until all lumps and clumps are gone. Once the mixture is nice and smooth again, whisk in Cool Whip.
Fill almost ¾ of a 1oz plastic shot cup with the mixture then cover and place in the freezer.
It does take several hours to set. For BEST results, I let them set overnight. May use little ice cream tester spoons when serving them.