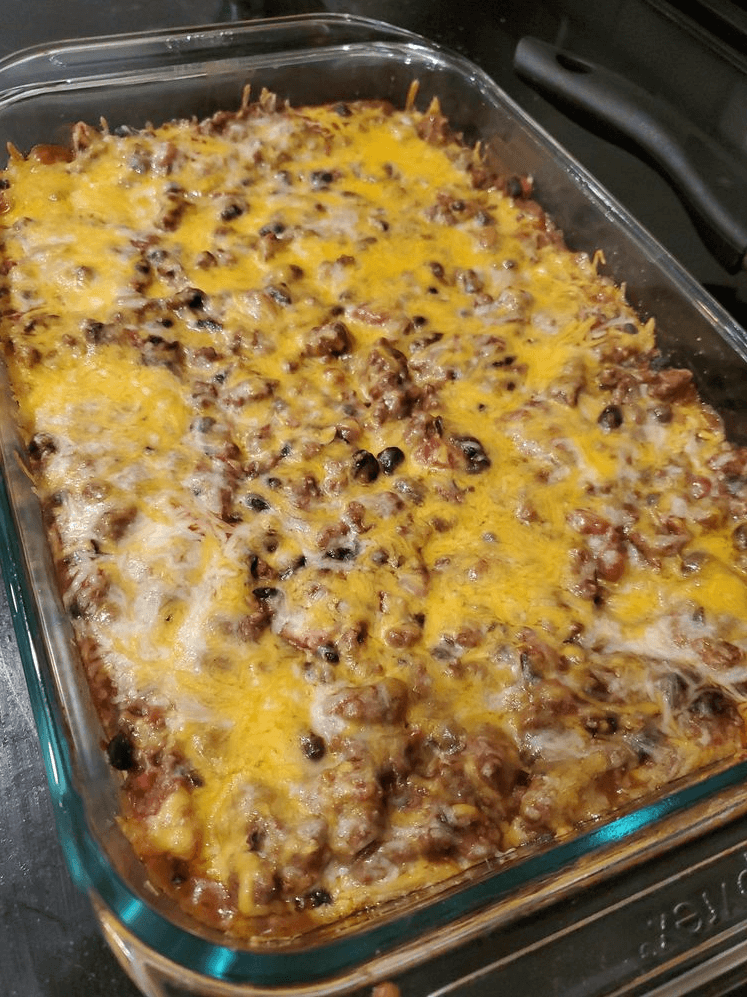 The easy Mexican casserole has been a family favorite in our home for years. This recipe is hearty, full of filling and delicious ingredients! Adding a salad to it makes for a complete meal. Did I mention that this recipe is EASY to make?
Easy Mexican Casserole
One way to save time is to prepare this easy Mexican casserole in the morning before going to work. Then, when I get home, I can put it in the oven and cook it. Dinner will be on the table in no time!
Easy to adapt too!
One thing I like about this recipe is that it's really easy to adapt for picky eaters. If your family doesn't like the beans, you can leave them out and add beef. It's really simple!
I should warn you that flour tortillas are NOT good in this recipe. I tried …. and they get too soggy. Yuck.
What are your favourite family recipes? If you're looking to cut calories, be sure to check out this delicious Weight Watchers Chicken Enchilada Bake! If you want something really fun, try these Carne Asada Fries…YUMMY!
Ingredients
1 pound of lean ground meat
15 ounce can of ranch style beans
1 can of diced tomatoes and green peppers, drained
1 can of condensed cream of mushroom soup or chicken soup
Corn tortillas in 12 oz. package
4 cups of grated cheese
3 tablespoons taco seasoning
1 bag of tortilla chips on the side if desired
Instructions
Preheat the oven to 350 F.
Brown ground beef in a large skillet over medium-high heat. Drain excess fat if desired.
Once beef is browned, add taco seasoning, beans, diced tomatoes/green peppers and soup. Mix well and heat through.
In a 13×9 baking dish, cover the bottom of the dish with about one cup of the meat mixture.
Cover this mixture with a single layer of corn tortillas.
Place half of the remaining meat mixture on top of the tortilla layer, then cover with cheese.
Repeat one layer of corn tortillas.
Place the remaining meat mixture on top of the tortilla and finish with the remaining cheese.
Bake in the preheated oven for 30 minutes, uncovered.