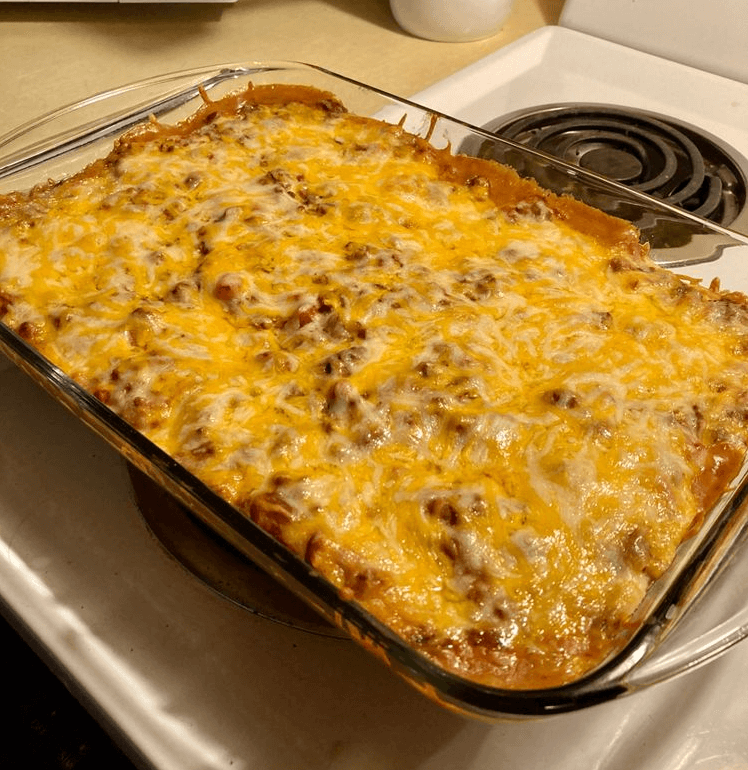 For a complete meal in one dish, this recipe is easy to make and full of flavor! We love Mexican food and Mexican-inspired food. We love cornbread. It was obvious for us to combine the two, our views on chicken enchiladas and cornbread, and make a stew with it.
For this one, you just have to raid the pantry and throw everything into the baking dish. If you want to throw in black beans, go ahead! If you want to add sautéed onions and fresh peppers, it's perfect! You can customize it in any way you want and it will always be amazing. Also, if you want to make it a little lighter, you can use skim milk, vegetable oil, low-fat cheese or egg whites… The possibilities are really endless for this meal and we encourage you to try them all!
Ingredients :
1 pound lean ground beef
1 can of Ranch Style beans
1 bag of 10-12 ounces tortilla chips, crushed
1 can of Ro-tel tomatoes
1 small onion, chopped
2 cups shredded cheddar cheese, divided
1 packet of taco seasoning
1 can of chicken soup
1/2 cup of water
sour cream and salsa for serving
Instructions :
Preheat the oven to 325 degrees. In a large frying pan, brown the meat and drain off the fat. Add beans, tomatoes, onion, taco seasoning, soup and water. Simmer over medium-low heat until well blended and heated through.
Grease a 9×13 casserole. Place a layer of crushed tortilla chips, then a layer of the meat and bean mixture, and finally half of the cheddar cheese. Repeat the layers. Cover with aluminum foil and cook for 20 to 30 minutes or until the mixture boils.
Let stand for 5-10 minutes before serving. Garnish with sour cream and salsa.