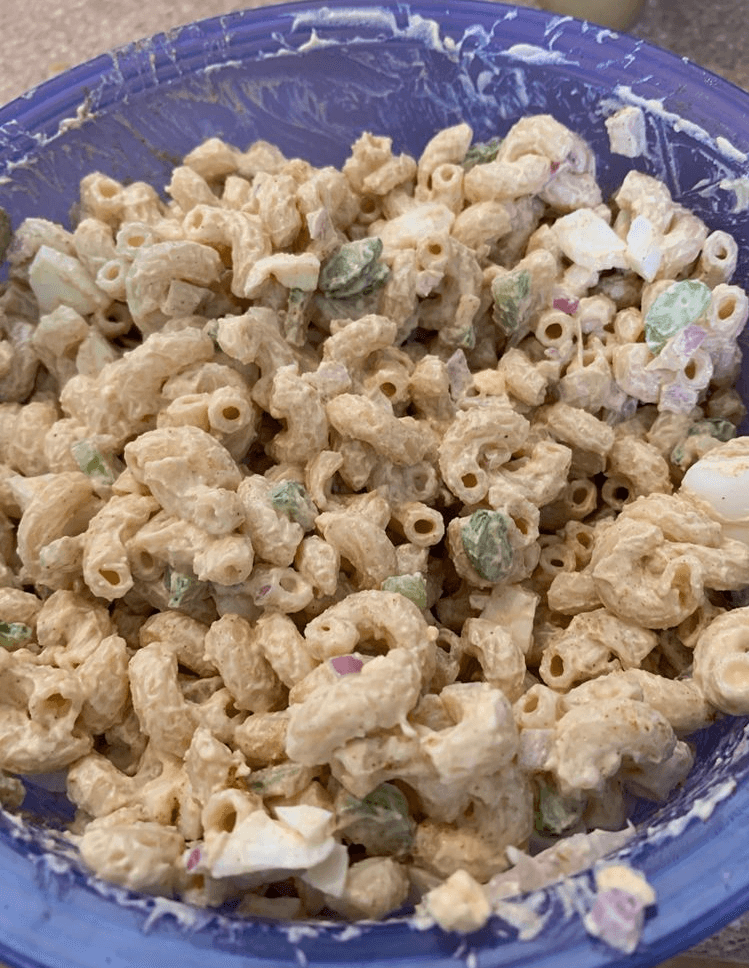 A creamy deviled egg filling creates the dressing that covers every bite of this simple deviled egg pasta salad. The pasta and eggs are tossed with the dressing before being sprinkled with onion to give each bite a spicy crunch.
This is the last salad of the summer. You can bet there will be a pasta salad in my fridge almost every day as soon as the weather warms up.
Pasta salads are the best make-ahead meal and I probably eat a variation of pasta salad several days a week for breakfast.
Does your family like deviled eggs like mine? I'm not kidding, no matter how many deviled eggs I make, they eat them all.
This deviled egg dip was inspired by my guys' love of simple deviled eggs. They love it with crackers, veggies or chips. One of my boys likes it with pork rinds. (I don't necessarily recommend this combination myself).
Ingredients
8 oz. macaroni pasta (cooked according to box instructions)
6 hard-boiled eggs, (yolks removed)
1/2 cup mayonnaise
1 tbsp. mustard
1 tbsp. ketchup
1 tablespoon white vinegar
1 tablespoon granulated sugar
1 small red onion, chopped
2 celery ribs, chopped
1/2 teaspoon paprika
1/2 teaspoon salt
1/2 teaspoon pepper
green onions for garnish
Instructions
Cook macaroni according to package directions.
Drain, rinse and set aside in a large bowl.
Cut the hard-boiled eggs in half and remove the yolks.
Place the yolks in a small bowl.
Set aside.
Chop the egg whites and add them to the bowl of pasta.
Add the chopped onion and celery to the pasta bowl.
Mash egg yolks with a fork.
Add mayonnaise, ketchup, vinegar, sugar and mustard.
Stir to combine.
Stir the egg yolk sauce into the bowl of pasta and mix until combined.
Place in refrigerator for at least 1 hour.
Garnish with green onions
HAVE FUN!