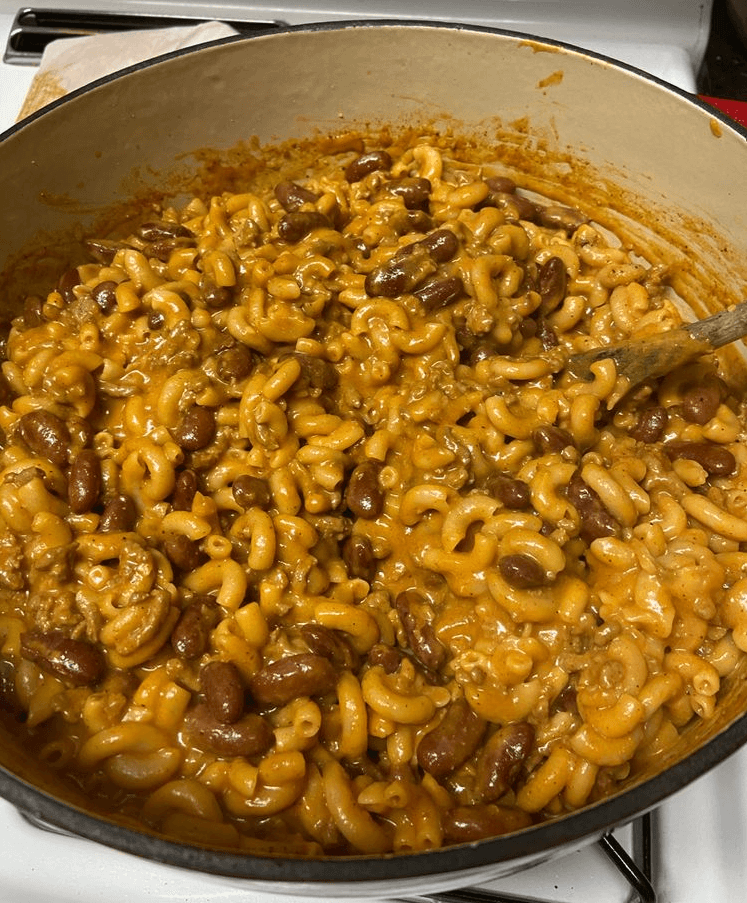 This chili mac is easy to prepare on the stovetop, and it is especially convenient because it is a unique dish. The mix of macaroni, cheese, ground beef and beans makes it a tasty daily family meal. Everything is cooked together in the pan, making it easy to prepare. The pan method eliminates extra pots and pans and utensils, making cleanup easy.
The dish is not only easy and convenient, it is also versatile. Leave the beans outside if you wish or replace them with a can of undrained diced tomatoes. You can also use black beans or pinto beans in the dish. If you don't use beans, add an extra half cup of water. For a little extra heat, use some or all of the pepper jack cheese instead of cheddar. For a tastier macaroni dish, feel free to add another cup of grated cheese.
This dish is also very versatile. Sauté sliced mushrooms in a few tablespoons of butter and add them to the beef and onions. Or add canned mushrooms. For extra flavor and color, add about 1/2 cup of diced red and green peppers. If you need heat, add chopped jalapeno peppers or a little cayenne bell pepper or crushed red bell pepper flakes.
Chili macaroni makes a satisfying meal with crusty bread or cornbread and a simple salad or spring greens.
Ingredients
1 TB EVOO
½ onion, chopped
1TB of chili powder
1 TB Cumin
4 cloves of garlic, chopped
1 TB Brown sugar
1 pound of ground meat of your choice (beef, turkey, etc.)
2 cups of water
15oz can of tomato sauce, no salt added
2 cups of macaroni at the elbow
8oz. Mexican shredded cheese mix
Salt and pepper to taste
Instructions
Fry the onion, chilli pepper, cumin and a pinch of salt in EVOO (extra virgin olive oil) for 5 to 7 minutes.
Add the garlic and sugar to the pan. Stir to mix.
Add your minced meat and cook.
**If you are using extra fat meat, you will have to drain your meat once it is well cooked. You don't want all that fat in your dish. I used very lean ground beef so I don't have to drain mine.
Add the water, tomato sauce and uncooked pasta.
Cover and cook for 12 minutes, stirring often to prevent the pasta from sticking together.
Remove from heat, add 8 oz. of cheese and stir.
Serve this unique dish hot!
Source: allrecipes,com