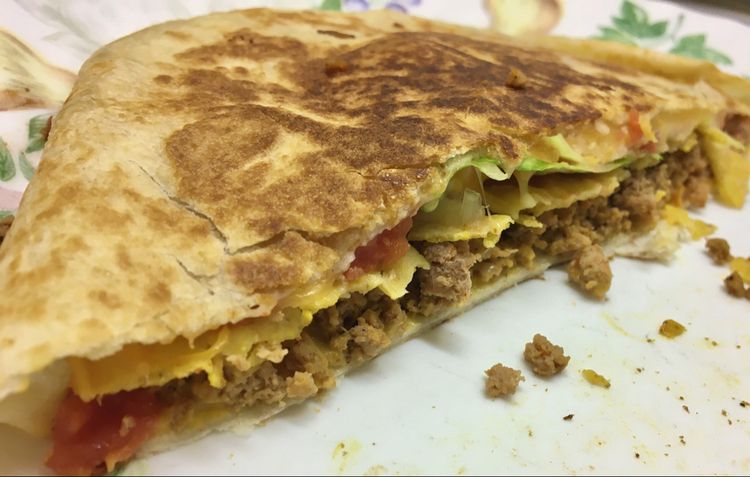 Taco Bell hit the nail on the head when it launched its now-legendary Crunchwrap in 2006. The company's ingenious idea was to combine three concepts into one handheld wrap: the cheese sauce from the nachos, almost all the delicious parts of a crispy ground beef taco, and a soft flour tortilla to wrap it all in. The whole thing is then grilled like a quesadilla.
Here's how to make one at home – and I'm not afraid to say it's even better than the one you'd get at the drive-thru.
Crunchwrap Cheese Beef
Let's start with the beef filling: all you need is lean ground beef and taco seasoning. I find that Taco Bell's Crunchwraps don't have enough beef in them, so buy a whole pound to make sure there's beef in every bite. Brown the beef, cook it with taco seasoning and a little water, and you're done. That said, feel free to substitute ground turkey or chicken for the beef, or even soy if you're vegetarian (but skip the taco seasoning if you're using soy, which is already seasoned).
Next is the nacho cheese sauce. You can make your own nacho cheese or queso sauce, or buy a jar at the store. But instead of drizzling it over the crunchwraps, mix it directly into the pan with the cooked beef. The cheese acts as a glue, making it easier to cut up the beef for assembly, and ensures that every bite of beef will be covered in cheese sauce.
INGREDIENTS
1/4 medium headiceberg lettuce
1 medium tomato
1 pound lean ground beef
5 large flour tortillas (10 inches)
4 tostada shells (5 inches)
2 tablespoons store-bought or homemade taco seasoning
1/2 cup water
1 cup store-bought or homemade nacho cheese or queso dip
1/4 cup regular or reduced-fat sour cream
INSTRUCTIONS
Place a rack in the middle of the oven and heat the oven to 350ºF. Meanwhile, cut 1/4 head of iceberg lettuce into thin strips. Dice 1 tomato.
Heat a large skillet over medium-high heat until hot. Add 1 pound of ground beef and cook, stirring occasionally and breaking up large pieces with a wooden spoon, until beef is cooked through and starting to brown, about 5 minutes. Meanwhile, heat tortillas and crisp tostada shells.
Stack 5 tortillas and wrap completely in foil. Place the tortillas in the oven, place 4 tostada shells directly on the oven rack in a single layer, and heat until the tostadas are crisp and the tortillas are heated through, about 3 minutes. Set the tostadas and tortillas aside.
Sprinkle beef with 2 tablespoons taco seasoning and stir to combine. Stir in 1/2 cup water and simmer over medium heat until almost completely evaporated, about 2 minutes. Remove from heat and stir in 1 cup nacho cheese sauce or cheese dip.
Fill crunchwraps: Place 4 of the tortillas on a work surface. Divide the cheesy beef among the center of the tortillas, then spread the beef on each to create a 5-inch round. Spread 1 tablespoon sour cream on each of the tostada shells. Place one tostada, sour cream side down, on each round of cheesy beef. Sprinkle lettuce and tomatoes over sour cream. Tear remaining tortilla into 4 pieces and place one piece on top of each crunchwrap to cover the center.
Wrap the crunchwraps: Fold the top of one tortilla over the filling to the center. Holding this piece down and working clockwise, continue folding the rest of the tortilla towards the center until the filling is completely covered (you will have 5-6 folds). Turn the crunchwrap over and repeat with the remaining tortillas.
Place 2 frying pans or a baking sheet over medium heat. Place the crunchwraps, folded side down, in the heated pans or griddle, as much as possible in a single layer. Cook until golden brown, 3 to 4 minutes per side. Repeat if necessary until all crunchwraps are cooked.