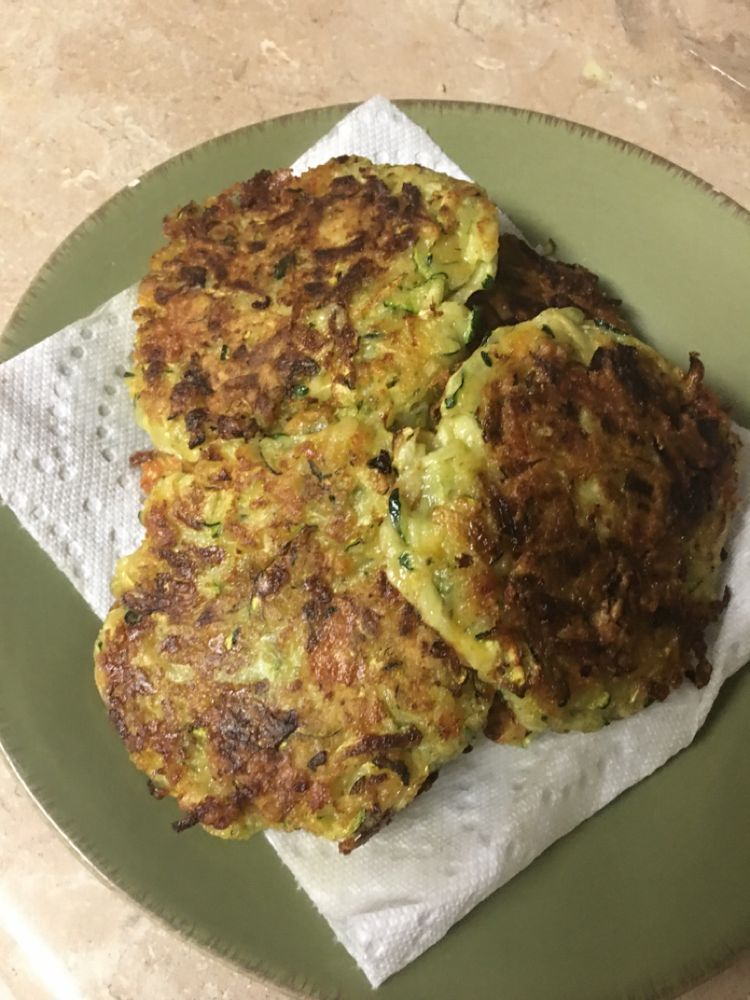 These fritters are unbelievably easy to make, low in calories, and the perfect way to sneak in some veggies!
Simple and delicious! I lightened these up further by using whole wheat flour in place of the all purpose and using olive oil cooking spray to fry these in. These were perfectly browned and very flavorful.
Wonderful!! I have been playing with my waffle iron. I followed exactly but threw it in the waffle iron on high for about 4 minutes. So good
Great idea to use up garden zucchini! I substituted half the flour for bread crumbs and added garlic powder and a dash of Herbamere all natural herbed sea salt.
Amazing!!! I used gluten free flour and it was still amazing. Very quick and easy to make.
I made this recipe as stated with the slight exception of not having a cheesecloth available. I tried to force as much as the moisture out of the zucchini using paper towels instead.
Ingredients :
1 ½ pounds zucchini, grated
1 teaspoon salt
¼ cup all-purpose flour
¼ cup grated Parmesan cheese
1 large egg, beaten
2 cloves garlic, minced
kosher salt and ground black pepper to taste
2 tablespoons olive oil
Directions :
Step 1: Toss zucchini and salt together in a large colander and place in sink to drain for 10 minutes.
Step 2: Put zucchini in the middle of a piece of cheesecloth; wrap cheesecloth around zucchini and squeeze to drain as much moisture from zucchini as possible.
Step 3: Mix flour, Parmesan cheese, egg, garlic, kosher salt, and pepper together in a large bowl. Stir in zucchini.
Step 4: Heat olive oil in a large skillet over medium-high heat.
Step 5: Scoop batter by the tablespoon into the hot skillet and fry until golden brown, about 2 minutes per side