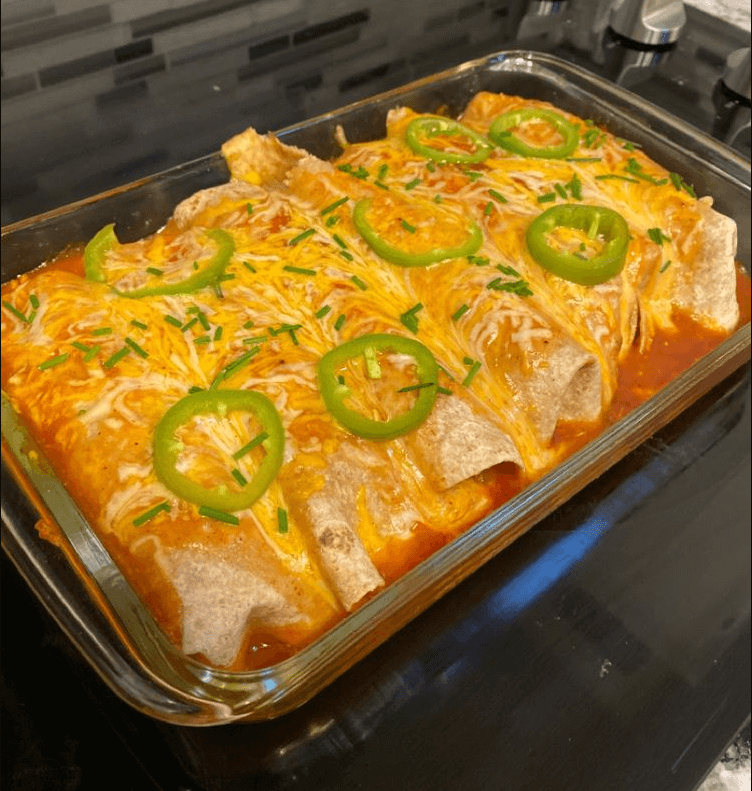 Chicken & Green Chili Enchiladas
Start with shredded chicken. I used 3 chicken breasts I braised in chicken broth with garlic, onion, black pepper, cayenne, poultry seasoning and cumin. Cook breasts for 45-50 min. Let cool and shred. I keep about 1/2 cup of cooking liquid to add to the chicken for moisture.
One Of Our Favorite Mexican Dishes – Green Chile Chicken Enchiladas Recipe!! Corn Tortillas Stuffed With Chicken, Cheese, Green Chile Enchilada Sauce, Sour Cream, And Green Chiles, Topped With More Sauce And Cheese!
We frequently make these enchiladas when we have company over for dinner, because everyone loves them! We always serve them with mexican rice, homemade salsa, and some tacos for an all out Mexican dinner!
Enchilada Sauce
2 tablespoons olive oil
2 1/2 tablespoons flour
1 tablespoon chili powder
1 teaspoon cumin
1/2 teaspoon garlic powder
1/2 teaspoon oregano
1/4 teaspoon salt
Pinch cinnamon
2 tablespoons
tomato paste
2 cups vegetable broth
1 tablespoon apple cider vinegar
Salt & pepper to taste
In a heavy pot heat olive oil until hot and add flour and all dry seasonings. Whisk for about 2 minutes and add tomato paste and vegetable broth. Simmer about 5 minutes whisking often. It will start to thicken. Turn off heat and add the apple cider vinegar and more salt and pepper to taste.
For enchiladas
3 cups cheese. I use Mexican blend
1 small can green chili's
Flour or corn tortillas
Pour enough sauce on the bottom of your pan to cover. Coat each tortilla in sauce and add chicken roll up and place in pan. When done pour over more sauce to cover enchiladas and add cheese to cover and green chili's and a sprinkle of dried cilantro. Bake at 350 for 25 min until heated through.