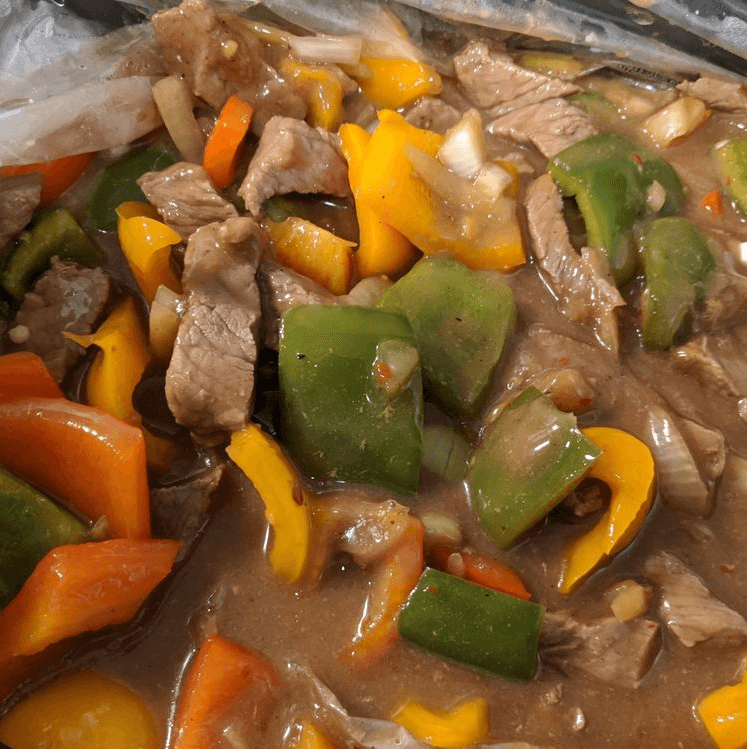 This is a wonderful meal for a weeknight or anytime. I cooked it overnight, refrigerated it and then reheated it. It was served for a small gathering of friends and everyone enjoyed it. The broth added enough sodium for my taste, so I omitted the extra salt. There was no need to add cornstarch since the broth was thick and rich. I will make it again.
It was surprisingly tasty! With so few ingredients, I was amazed at the result. The steak was beautiful and tender and reminded me of something my mom used to make when I was a kid. OMG, it brought back wonderful memories. I think mom called it "Swiss Bliss"…. This is delicious. Thanks for sharing a great slow cooker recipe. I will definitely make it again. It was wonderful. ~V
You will need
16 oz of stewing beef.
2 of each bell bell pepper.
1 vegetable oil.
3 tablespoons worcestershire sauce.
1 teaspoon minced garlic.
1 can beef broth.
1 can stewed tomatoes.
1 cooking salt.
1 all-purpose flour.
How to make:
In a large bowl, mix the flour and cooking salt, then coat the meat with the mixture.
In a frying pan, heat oil, add meat, minced garlic, peppers (cut into strips) and cook until meat begins to brown.
Remove the meat and peppers from the pan and put them in a lined slow cooker, leaving the fat behind.
In the pan where we cooked the meat, add to the oil the stewed tomatoes with their juice and a can of beef broth.
Gradually add the flour, stirring until you have a sauce, then pour it over the meat in the slow cooker.
Cook, covered, on low heat for 8 hours.
Simple, easy and full of flavor! This slow-cooked pepper steak is so delicious. It doesn't hurt to switch it up every once in a while! Let me know how you like it.