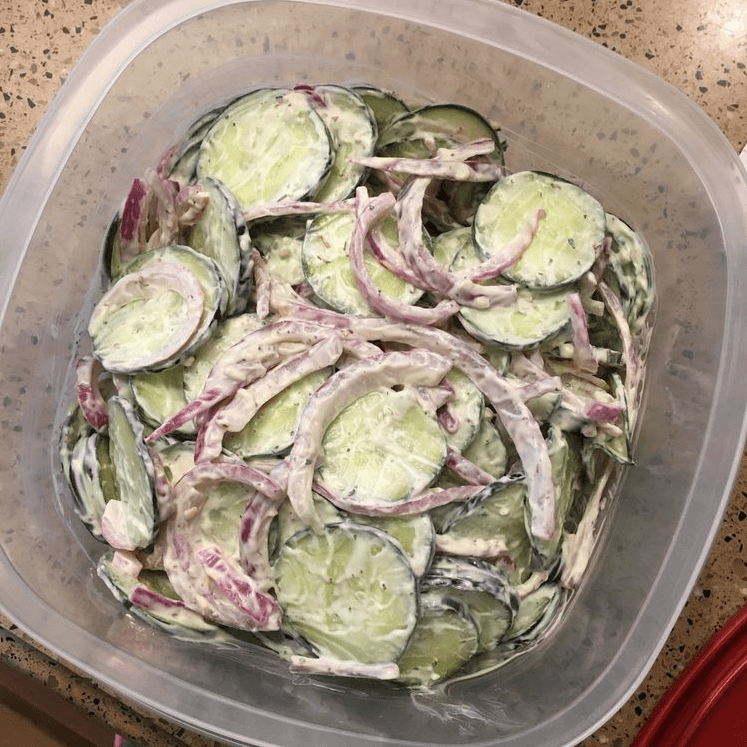 Creamy Italian cucumber salad is the best and is easily prepared with finely chopped cucumbers and red onions! You'll love the tangy, creamy dressing!
Spring is officially here and I look forward to all the potluck dinners to come! I especially dream of all the side dishes. Most of the time, I like a good side dish more than a main course. My cucumber salad is what I consider to be a step forward compared to the typical cucumbers dipped in vinegar with white onion. Honestly, it's not really my thing. I created this recipe entirely around the vinaigrette, everything is based on the creamy Italian dressing that I love from our local pizzeria and wanted to recreate at home!
HOW TO MAKE A CUCUMBER SALAD :
For this cucumber salad, you want to prepare your dressing first to get the best results.  I recommend preparing it 24 hours in advance so that the flavours can develop, so keep that in mind.
For the vinaigrette, you will whisk together your mayonnaise, crème fraîche, red or white wine vinegar, olive oil and seasonings.  Then cover and put in the refrigerator as long as possible before preparing the salad.
I took a picture below and you can see how I finely chop my cucumber and onion.  I don't peel my cucumbers, but you can peel them if you prefer them without the skin.  Cut the red onion and cucumbers into thin slices of about 1/8-1/4 inch.
Toss them with the prepared dressing and chill for at least one hour and up to 24 hours.
Toss this salad again before serving.  You can garnish with additional Italian dressing if desired.
Ingredients
3/4 cup mayonnaise
1/4 cup sour cream
1 tablespoon of red or white wine vinegar
2 teaspoons of Italian seasoning
1 teaspoon of olive oil
2 cloves of garlic, chopped
1/2 teaspoon of salt
1/4 teaspoon pepper
1 pinch of granulated sugar, about 1/8 teaspoon
3 large cucumbers
1 medium red onion
Instructions
In a medium bowl, whisk together mayonnaise, crème fraîche, red or white wine vinegar, Italian seasoning, olive oil, garlic, salt, pepper and sugar.
For best results, cover and refrigerate the dressing for at least one hour and up to one full day before preparing the salad.
Cut cucumbers and red onions into thin slices about 1/8-1/4 inches thick.
Toss the dressing with the onion and cucumber. Serve immediately or refrigerate until ready to serve.