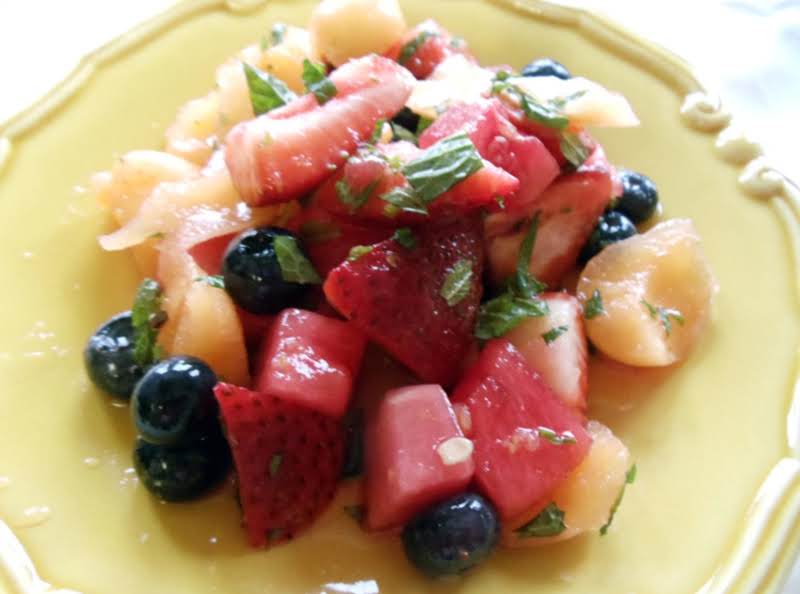 This my all time favorite fruit salad. the fresh mint and the Limoncello add a wonderful addition to your summer fruits. I promise you will love it. * I keep the Limoncello in my freezer. It always nice and cold. Also good as an evening sipper on a hot summer day.
-Dinner Saturday night was complete success and everyone wanted the dressing for the fruit salad. I'll never make another fruit salad without using this recipe. I added bananas at the last minute, too, because I had 'em. Would also be good with Fuji apples and ripe pears added. The lemon keeps all from turning brown. I don't drink but there's no alcohol taste at all. Thank you so much for a definite keeper. Now I gotta go find other recipes to use my Limoncello!
-Nadine! Our family lived in Fairfield from 1982-1997. One of my best friends still lives there & the other lives in Milford. I also have some family in another suburb. We are originally from KY & moved back in '97.
Pinched this great sounding salad! Thanks for sharing!
-I'm with Marilyn Norman, no alcohol in my house, when recipes are posted it's so helpful to have a substitute suggested, Some of us just can't do alcohol in our food or anything else. I have natural lemon flavor for my sparkling water so I'll try that. Looks yummy.
Prep time: 15 Min Serves: 6
Ingredients
3 c watermelon, diced
2 c strawberries, halved
1 c blueberries
2 c cantaloupe
1/4 c sugar
1 Tbsp grated lemon zest
2 Tbsp fresh lemon juice
3 Tbsp limoncello (Italian lemon liquor)
1/2 c fresh mint, finely chopped
Directions
1. In a large glass bowl combine all the fruit.
2. In a small bowl combine sugar, zest, lemon juice and limoncello. Stir till sugar is well combined.
3. Pour over fruit. Gently stir in mint. Allow flavors to meld at least an hour. Serve and enjoy!
Last Step: Don't forget to share!