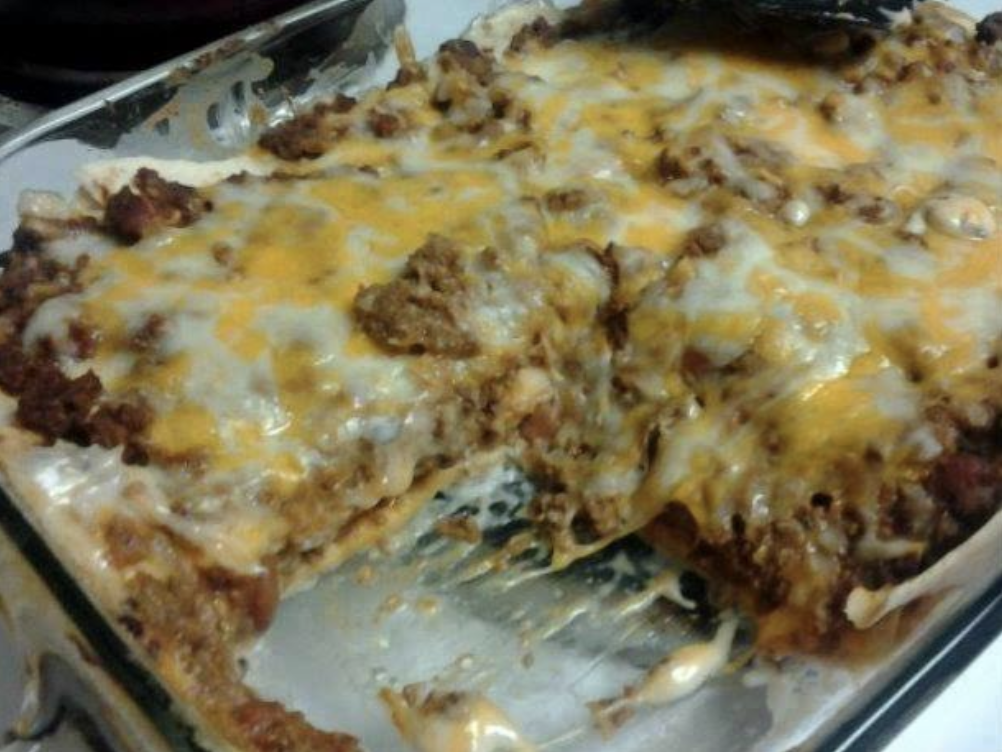 Do you love burritos? Of course, you do!!! Everyone does! And I'm not an exception. Today I try to make a new twist of traditional burritos and cook burrito casserole.
It's like several burritos packed into one dish and baked. For me, it's some kind of Mexican lasagna. Layers of wheat tortillas with creamy mushroom sauce, taco flavored juicy beef with refried beans and melted Mexican blend cheese on top…Doesn't it sound yummy?
HOW TO MAKE BAKED BURRITO CASSEROLE?
Step 1. Preheat your oven to 350 F. Heat oil in a frying pan over medium heat, add ground beef and chopped onion and cook until meat is no longer pink. Drain off any excess grease. To the same skillet add refried beans and taco seasoning, give a good stir and cook until heated through. Set aside.
Step 2. Combine cream of mushroom soup and sour cream in a medium bowl. Mix well until smooth and homogeneous. Transfer half of this mixture into your 9×13-inch baking dish and spread it over the bottom of the dish
Step 3. Arrange a layer of 3 flour tortillas over a sour cream-soup mixture. You may need to cut or tear up your tortillas to evenly cover the dish. Top tortillas with a layer of the prepared beef. Use only half of the beef mixture for this layer. Sprinkle with a cup of shredded cheese on top.
Step 4. Continue to layer your casserole with all remaining ingredients in the same order: sour cream-soup mixture first, then tortillas, beef mixture again, and final layer of shredded cheese.
Step 5. Transfer your casserole to the preheated oven and bake uncovered for 20 minutes or until cheese is melted. Share between plates and enjoy!

WHAT TO SERVE WITH BURRITO CASSEROLE?

There are plenty of options to serve burrito casserole with some salsa & chips, spring salad, avocado slices or guacamole, some chopped fresh lettuce leaves, or just a dollop of sour cream. Spanish rice or pasta mix could also be a good choice.

CAN YOU FREEZE BURRITO CASSEROLE?

Surely, you can freeze burrito casserole! Cover the casserole dish with a freezer-safe lid or foil, or if you have leftovers, arrange them in an airtight container or in a freezer bag and place in a freezer.
Before cooking, let thaw and bake at 350 degrees for 20-25 minutes or until heated through.
HOW MANY CALORIES IN A BAKED BURRITO CASSEROLE?
Are you interested in the nutritional value of the burrito casserole? Here you are: 1 serving of our burrito casserole contains 379 Calories.
It has 19 g of total fat, 9 g of which is saturated fat. No trans fat in this recipe! The recipe contains 21 g of protein, 9 g of net carbs, 3 g of dietary fiber.