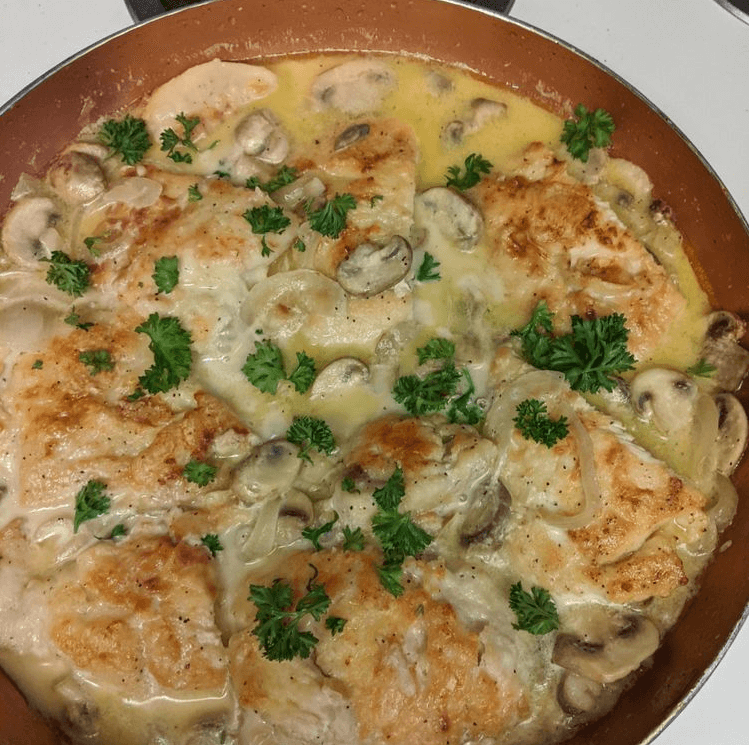 "This is a simple and tasty recipe for weekdays or when friends and family come over to visit. It's a creamy chicken comfort food recipe with mushrooms that I have had a lot of good comments on when I make it at home. If you have a rice cooker, cook some rice while the chicken is resting. It's a great base for the chicken and creamy sauce."
Prep: 15 mins
Cook: 1 hr 50 mins
Additional: 15 mins
Total: 2 hrs 20 mins
Servings: 3
Yield: 3 servings
Ingredients
3 skinless, boneless chicken breast halves
1 teaspoon kosher salt
1/4 teaspoon freshly ground black pepper, or more to taste
2 tablespoons olive oil
1 medium white onion, chopped
2 tablespoons chopped fresh parsley
1 teaspoon poultry seasoning
1/4 teaspoon cayenne pepper
1 (7 ounce) can whole mushrooms, drained
1 (10.5 ounce) can condensed cream of chicken soup
1 cup heavy cream
1/4 cup buttermilk
4 slices Swiss cheese
Directions
Preheat the oven to 350 degrees F (175 degrees C). Season chicken breasts with salt and pepper.
Heat olive oil in a large skillet over medium-high heat. Add onion and cook until it is semi-transparent, about 5 minutes. Add parsley and stir until coated. Place chicken in the skillet and brown, about 5 minutes per side. Add poultry seasoning and cayenne, making sure chicken is coated. Transfer chicken to a 9×13-inch dish. Cover with mushrooms and set aside on a warming plate.
Combine soup, heavy cream, and buttermilk in a mixing bowl. Add the onion mixture and combine. Pour over the chicken. Cover the tops with Swiss cheese, making sure all areas are covered.
Bake in the preheated oven until chicken is no longer pink in the center, about 1 hour and 35 minutes. Remove from the oven and let stand for 15 minutes.
Cook's Notes:
You can use fresh mushrooms instead of canned. Add them to the skillet after removing the chicken and cook until softened.
Use baby Swiss cheese instead of regular, butter instead of olive oil, and any kind of onion you prefer.
If you prefer smaller pieces of chicken for your servings, you can cut them in half lengthwise for more portions.
Feel free to add any additional spices you like after browning the chicken. Change up the spices as you like to make it spicy or mild.
Nutrition Facts
Per Serving:
754 calories; protein 40.2g 80% DV; carbohydrates 19.7g 6% DV; fat 57.8g 89% DV; cholesterol 216.8mg 72% DV; sodium 1752.4mg 70% DV.