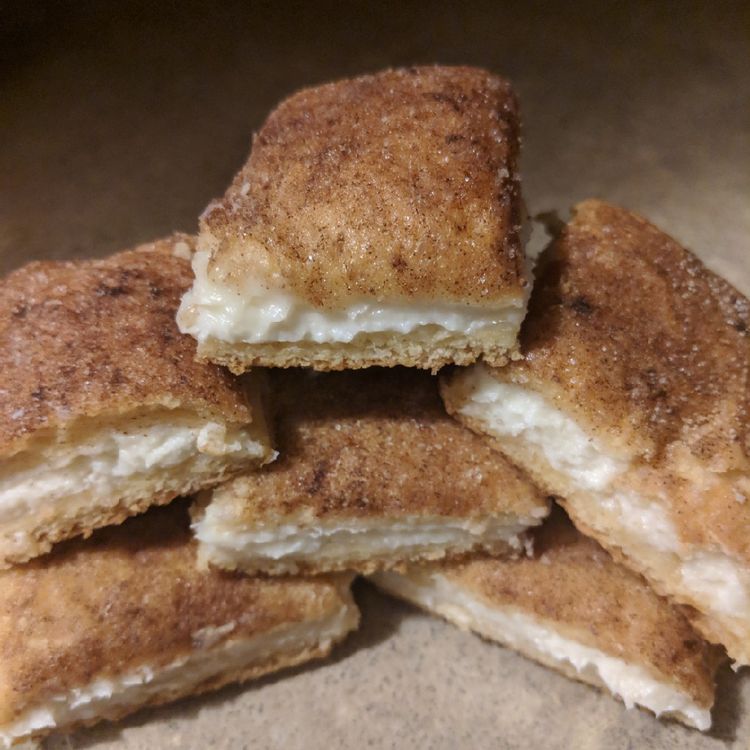 Cream cheese squares. Very easy, and very good.
I LOVED this… I had to make it my own, so I made the cream cheese layer (with splenda blend) and tried variations to it by spreading a layer of either apricot, blueberry, blackberry or strawberry sugarfree preserves over the cream cheese then finishing off with the crescent dough and butter and splenda blend sprinkled on top… OMG, I had to make this 3 times in 2 days due to so many people loving it over the holidays!!! No one could guess it was sugarfree.. the fruit topping over the creamcheese really gives it kick! My fav were the blueberry ones, and the apricot… with the apricot I crushed 1/2 C of pecans and sprinkled those over the top with cinnamon and splenda blend.. that was sheer heaven. Even better the next day if thats even possible! I am thinking about trying this with a variation of no sugar, but using a packet of hidden valley ranch powder and bacon and maybe some sundried tomatoes… maybe butter and parmesan on top?… I will let you know!
Prep: 10 mins | Cook: 30 mins | Additional: 5 mins | Total: 45 mins | Servings: 24 | Yield: 24 squares
INGREDIENTS
2 (8 ounce) cans refrigerated crescent roll dough
2 (8 ounce) packages cream cheese
1 cup white sugar
1 teaspoon vanilla extract
½ cup margarine, melted
¼ cup white sugar
1 teaspoon ground cinnamon
INSTRUCTIONS
Step 1:
Preheat oven to 350 degrees F (175 degrees C). Grease a 9×13 inch pan.
Step 2:
Press one can of the crescent rolls into the bottom of the prepared pan. In a medium bowl, mix together the cream cheese, 1 cup of sugar, and vanilla until smooth and creamy. Spread over the crescent layer. Unroll the second can of crescent rolls and lay them on top of the cream cheese layer. Do not press down. Pour the melted margarine over the entire pan. Combine the remaining 1/4 cup of sugar and cinnamon; sprinkle over the top.
Step 3:
Bake for 25 to 30 minutes in the preheated oven, or until the top is crisp and golden.
Nutrition Facts
Per Serving:
213 calories; protein 2.8g 6% DV; carbohydrates 18.4g 6% DV; fat 14.2g 22% DV; cholesterol 20.5mg 7% DV; sodium 245.8mg 10% DV.