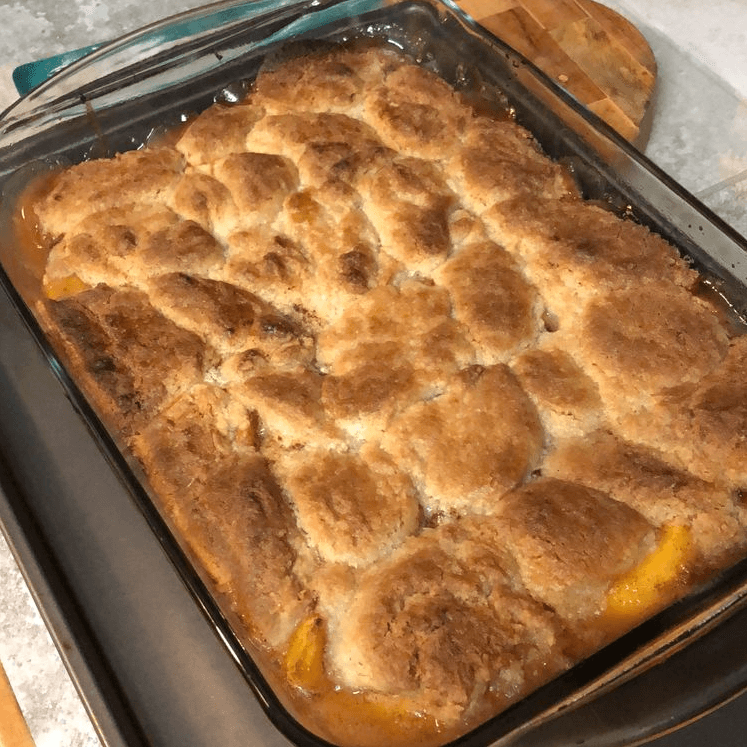 The moment I tried this Cookie-Crusted Peach Cobbler, I recall that vividly. I was out with my friends to visit the newly opened bakeshop in our place. It was a cute one, neither big nor small. Since they recently opened, they have promotions here and there, one of them is free-taste for their Cookie-Crusted Peach Cobbler.
It is the best Peach Cobbler Cheesecake Bars recipe that my palate buds have enjoyed ever. And in my days, I was getting a lot of cobblers. It's one of my favorite Summertime desserts. I love a good cobbler made especially when you're chilling at home just lowkey vibing and wondering about the future, that's the way to make a perfect cobbler! This Cookie-Crusted Peach Cobbler is a must-make. Try this recipe for Cookie-Crusted Peach Cobbler, and don't forget to share and enjoy it with your family and friends.
Ingredients
8 fresh peaches – peeled, pitted and sliced
1/2 cup butter, cut into pieces
1/2 cup brown sugar
2 cups all-purpose flour
2 cups white sugar
2 teaspoons baking powder
1 teaspoon salt
2 eggs, lightly beaten
1 cup vegetable oil
1 teaspoon ground cinnamon
PREP20 mins
COOK45 mins
READY IN1 hr 5 mins
Directions
Preheat an oven to 350 degrees F (175 degrees C). Spray a 9×13-inch baking pan with cooking spray.
Arrange the peaches in the prepared pan. Scatter the butter over the peaches, then sprinkle the brown sugar evenly on top. Set aside. Mix flour, white sugar, baking powder, and salt in a bowl. Stir the oil into the beaten eggs, then stir the egg mixture into the dry ingredients. Spoon the batter over the peaches, then sprinkle cinnamon on top.
Bake in the preheated oven until the crust is lightly browned, about 45 minutes.
Nutrition
Calories: 497 kcal
Carbohydrates: 62.6 g
Cholesterol: 56 mg
Fat: 26.9 g
Fiber: 0.7 g
Protein: 3.3 g
Sodium: 325 mg