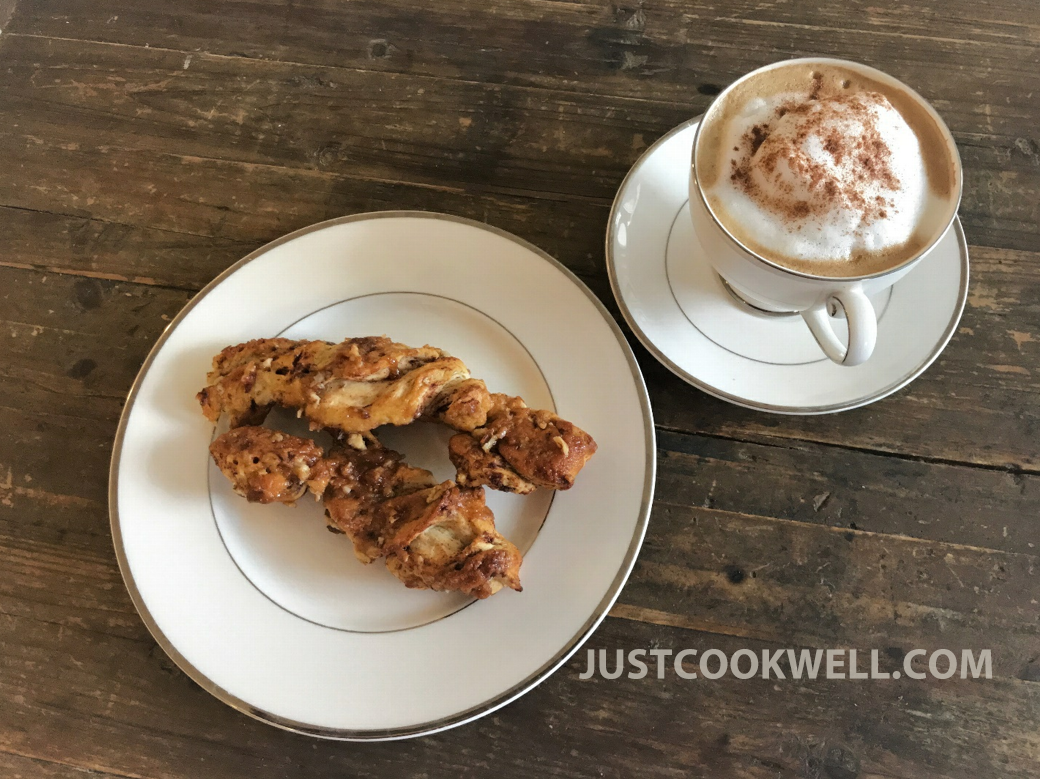 In 1961, this vintage cinnamon roll recipe appeared in the promotional booklet Fleischmann's Yeast, which also advertised Bisquick Baking Mix. Coffee Breakers resemble cinnamon rolls as they have the same twist shape.
The original recipe promotional text read, "Go ahead and bake-it-easy… that's why mixes were born! And now you can do wonderful new things with them, just by adding Fleischmann's Active Dry Yeast."
Serves 12 | Prep time 20 min | Rising time 1 hour | Cook time 20 min
Ingredients
¼ cup butter, melted
1 teaspoon light corn syrup
⅓ cup brown sugar, packed
⅓ cup chopped pecans
1 (¼-ounce) packet active dry yeast
¾ cup lukewarm water
2½ cups Bisquick baking mix (or see below)
2 tablespoons additional butter
1 teaspoon cinnamon
¼ cup additional brown sugar
Directions
Line a large baking sheet with parchment paper or a silicone mat.
Melt the ¼ cup butter over medium heat in a small saucepan. Add the corn syrup and ⅓ cup brown sugar and stir. Bring the mixture to a boil and pour it out into the baking sheet.
Shake the pan a bit to distribute the mixture evenly over the bottom. Sprinkle the chopped pecans over the mixture. Set aside.
Add the lukewarm water to a large bowl. Sprinkle in the yeast and stir to dissolve it.
Add the Bisquick baking mix and beat well until you get a smooth mixture.
Dust a board with some flour or Bisquick and transfer the dough onto it.
Smooth the dough by kneading it about 20 times.
Roll the dough into a 1-foot square.
Brush the dough with the additional 2 tablespoons of butter.
Add the cinnamon and the additional ¼ cup of brown sugar to a small bowl and stir a couple of times.
Sprinkle the center third of the dough with half of the cinnamon-sugar mix.
Fold one of the outer thirds over the center third. Sprinkle with the rest of the cinnamon-sugar mix.
Fold the remaining third over the two layers.
Use a sharp knife to cut the dough crosswise into strips about an inch wide. Grasp the ends of each strip and twist. Seal the ends firmly.
Place the strips about 1½ inches apart on top of the pecans in the pan. Loosely cover the pan with plastic wrap. Let the dough rise in a warm place until doubled, about an hour.
Preheat the oven to 400°F.
Bake for about 20 minutes. Turn the pan over onto a serving platter while the pan is still very warm.
Note: Instead of using Bisquick, make your own baking mix: Combine 1 tablespoon baking powder, 2¼ cups all-purpose flour and ½ teaspoon salt in a mixing bowl. Mix in 2 tablespoons shortening or butter until well combined. Baking mix is ready.