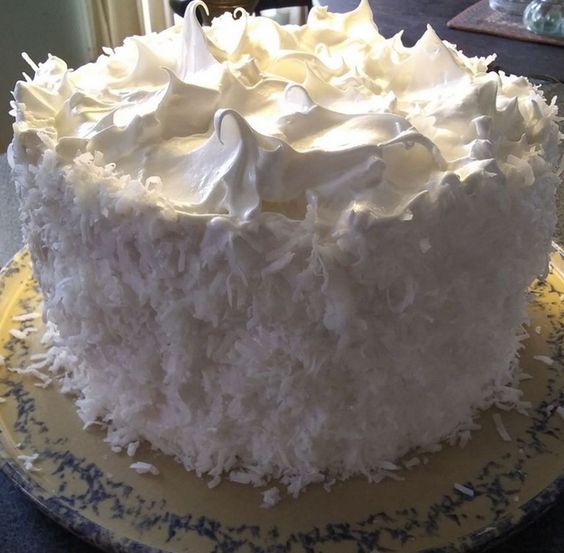 Grandmama's Homemade Coconut Cake is a from scratch cake with decadent (and no fail) 7 minute icing. This is a favorite of our family for holidays and special occasions year round. I found it in an old box of papers that belonged to my grandmother. She had typed it out on letterhead from the company where she worked and later came back, circled it, and wrote in "Real good". After trying it for myself, I had to agree! When it comes to moist cakes, this is the mother of them all. If a crumb drops from your fork, don't be surprised if you find your finger chasing it around your plate – it's just that good.
Top it off with no fail seven minute frosting and a sprinkling of coconut and prepare yourself for a coconut cake experience unlike any other! One of the great things about Grandmama's seven minute frosting is that you don't need a double boiler to make it and you can forget fretting over whether or not the weather is dry enough – this comes out perfect every time regardless. If you're making a layer cake and you like generous amounts of frosting, I suggest doubling the frosting recipe.
Ingredients
vegetable shortening and flour for preparing the pans
1 cup unsalted butter two sticks, at room temp
2 cups granulated sugar
5 large eggs
1 teaspoon vanilla extract
1 teaspoon coconut flavoring found near vanilla extract
2.5 cups all purpose flour
1 teaspoon baking soda
1 teaspoon baking powder
1/4 teaspoon salt
1 cup buttermilk
No fail seven minute frosting click here for printable recipe
2 cups shredded sweetened coconut for garnishing cake
Instructions
Preheat oven to 350. Lightly grease and flour two 9 inch round cake pans or one 9×13 cake pan and set aside.
Cream together the butter and sugar in a large bowl with an electric mixer at medium speed until very smooth, at least four minutes. Add eggs, vanilla, and coconut flavoring and beat well to combine. In a separate medium sized bowl, stir together flour, baking soda, baking powder, and salt.
Add flour mixture and the buttermilk to the butter mixture and beat with an electric mixer at medium speed, scraping down the sides as needed, until thoroughly blended and smooth, 2-3 minutes.
Pour batter into the prepared pans. Bake until a toothpick inserted in the center comes out clean, 25-30 minutes for round cakes and 30-35 for a 9×13 cake.
Cool completely and frost with no fail seven minute frosting. Sprinkle with coconut and press coconut into sides immediately after frosting.
Keep covered at room temp for up to two days or in the refrigerator for up to a week.