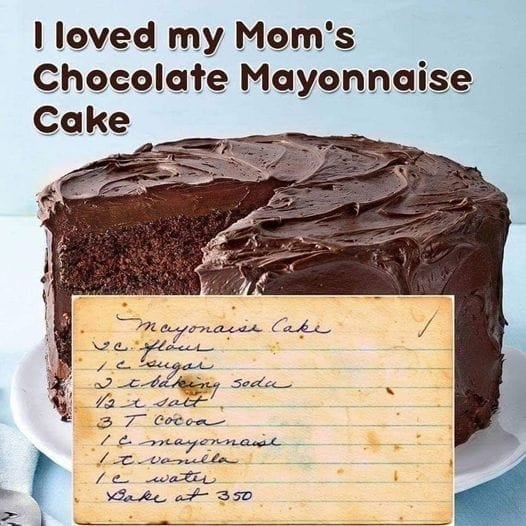 I love this recipe! I've eaten this cake all through my childhood as my grandmother made it. It is so moist and rich you can never go wrong. Prepare to wow yourself.
Excellent! Had my ma's recipe but lost it. Called for Miracle Whip though. (salad dressing which I used). So glad to have found this. Just like 50 years ago. Thanks!
You haven't had a delicious chocolate cake until you've tasted this mayonnaise cake recipe. Minimal ingredients and easy to follow instructions make this cake recipe a staple in my dessert cookbook. Don't worry if you're not a fan of mayonnaise either….you won't even taste it!
The best part of this cake is the consistency that mayonnaise brings to the cake. No one wants to eat a dry piece of cake! Mayonnaise is great because it helps to keep the finished product moist and almost chewy. It's an unexpected ingredient that does wonders to make this chocolate cake recipe extra delicious!
A homemade cake is actually much easier than one might imagine, just a handful of pantry staples and we can really whip up something great. A store-bought frosting can make the process even simpler, but when we've got the time, we'll definitely whip up our own from scratch.
Please continue to Next Page (>) for the full list of ingredients and complete cooking instructions.