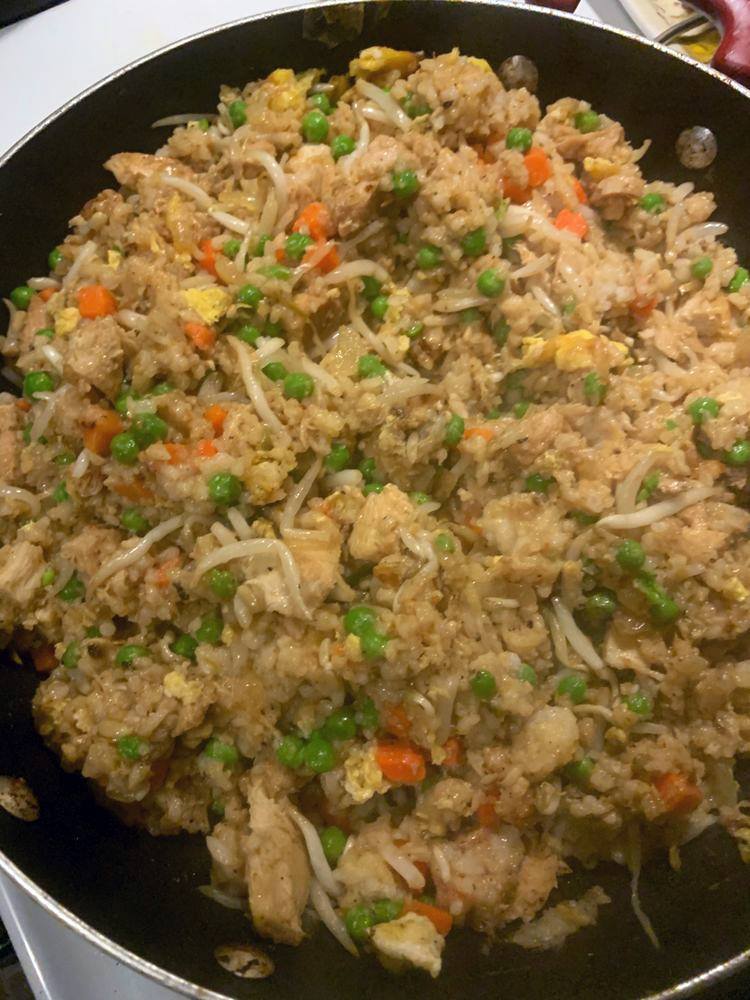 This easy Chinese Chicken Fried Rice recipe is the best ever! It tastes even better than takeout and is ready to eat in just 20 minutes. Learn how to make homemade chicken fried rice with this quick, restaurant-style recipe.
This chicken fried rice recipe is one you need to add to your regular dinner rotation, because it is bursting with flavor and is one the whole family will love. ​In addition, it is so simple to make and uses common ingredients that you probably already have on hand in your kitchen.
Not only does this recipe taste better than takeout, it takes less time to make than your favorite Chinese restaurant takes to deliver. Now you can toss those takeout menus and make perfect fried rice in the comfort of your own kitchen, in no time at all.
Ingredients
2 tablespoons butter, divided
1 pound boneless, skinless chicken breasts, diced into 1/2-inch pieces
1 yellow onion, diced
2 cups frozen mixed vegetables
2 cloves garlic, minced
1 teaspoon fresh grated ginger
2 large eggs, beaten
3 cups cooked rice
2 tablespoons organic tamari (gluten-free soy sauce)
2 teaspoons Sriracha
2 green onions, thinly sliced
Instructions
Melt 1 tablespoon of butter in a wok or a large frying pan set over medium heat. Add the chicken and cook for 3-4 minutes until cooked through. Transfer chicken to a separate bowl.
Melt the remaining tablespoon of butter in the pan. Add the onion and frozen vegetables. Cook for 4 minutes until softened.
Stir in the garlic and ginger. Cook for a minute further until fragrant.
Push all of the vegetables to one side of the pan. Add the eggs to the other side and scramble constantly until cooked through.
Add the cooked rice, tamari, Sriracha, and chicken to the pan. Stir-fry mixture for 2 minutes.
Sprinkle with green onions and serve warm.