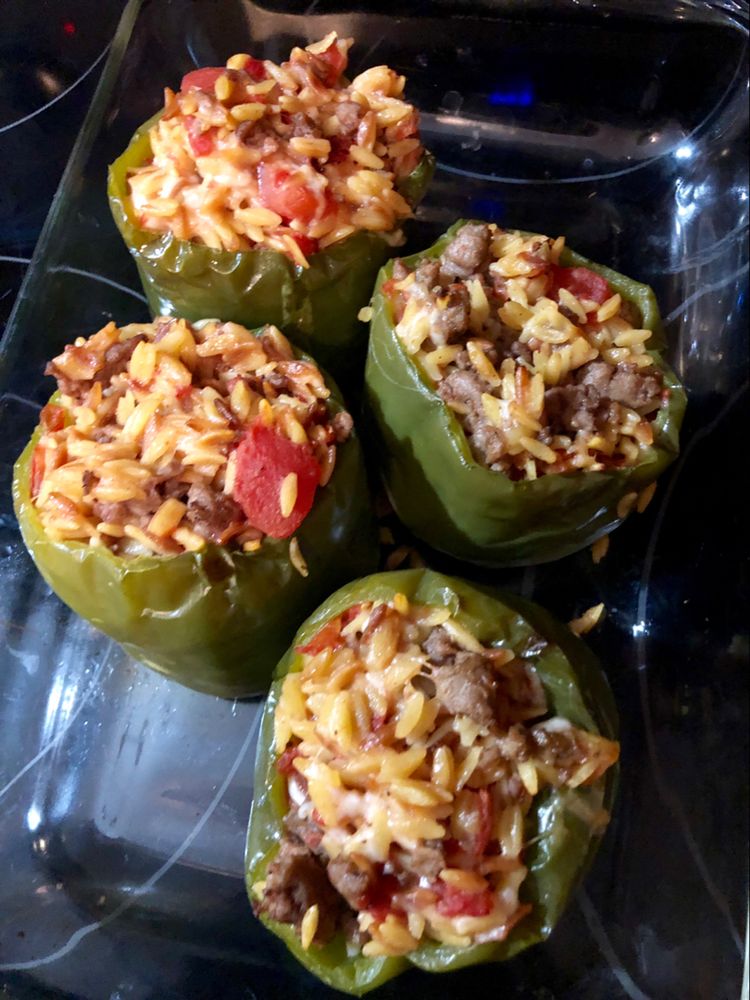 Ninety-four percent of all stuffed peppers are made because there's leftover rice around. You can adjust this recipe in lots of different places: the herbs, the meat to use, etc. Give these beautiful stuffed peppers a try!
I used different colored peppers and didn't measure the ingredients exactly and I thought it was great! I used brown rice, extra garlic, and cooked it for a total of 1.5 hours. Great flavor, I will be making again!!!
This is a great recipe. I used ground turkey and italian turkey sausage instead of beef. The turkey is lower in fat which offsets the addtional cheese that I add.
Although I made a few minor changes I must say that these are the best ever!! I didn't have chunky tomato sauce so just used canned chopped tomatoes and added tomato sauce to get the correct amount.
Our favorite stuffed pepper recipe! We only needed 3 medium sized peppers for our family so I adjusted to 1 lb. of beef and 1 cup of rice. Still only used half the stuffing mix.
I made this today for lunch and it was a BIG hit. I actually assembled it yesterday afternoon and refrigerated it overnight. I made it as written except for slightly less salt. It was excellent!
Ingredients :
6 eaches bell peppers
2 ½ cups chunky tomato sauce
½ onion, very thinly sliced
1 cup beef broth
¼ teaspoon red pepper flakes
1 ½ pounds lean ground beef
1 ½ cups cooked rice
½ cup freshly shredded Parmigiano-Reggiano cheese
¼ cup chopped fresh flat-leaf parsley
½ cup chunky tomato sauce, divided
4 cloves garlic, minced
2 teaspoons salt
½ teaspoon freshly ground black pepper
1 tablespoon chopped fresh flat-leaf parsley, divided
Directions :
Step 1: Preheat oven to 375 degrees F (190 degrees C).
Step 2: Slice the top 1/2 inch from the tops of peppers and cut out the stems from the tops. Cut the core from the inside of the peppers and strip away any seeds. Cut away a very thin slice of pepper from the bottoms so the peppers can stand upright. Poke about 4 tiny holes in the bottoms to let juices drain out.
Step 3: Pour 2 1/2 cups tomato sauce into a 9×13-inch baking dish. Add onion, beef broth, and red pepper flakes; spread out mixture evenly over the bottom. Set prepared bell peppers upright in the dish.
Step 4: Combine ground beef, cooked rice, Parmigiano-Reggiano cheese, 1/4 cup parsley, 2 tablespoons tomato sauce, garlic, salt, and black pepper in a large mixing bowl.
Step 5: Lightly stuff peppers with meat mixture. Spread 1 tablespoon remaining tomato sauce on top of each portion of stuffing; place reserved tops onto peppers. Lay a piece of parchment paper loosely on top of peppers and cover dish tightly with foil. Lay dish on a baking sheet.
Step 6: Bake in preheated oven for 1 hour. Peppers should be starting to soften. Remove foil and parchment paper. Continue to bake until meat filling is cooked through and the peppers are tender, 20 to 30 more minutes. Sprinkle each pepper with 1/2 teaspoon parsley and drizzle with a spoonful of pan juices.