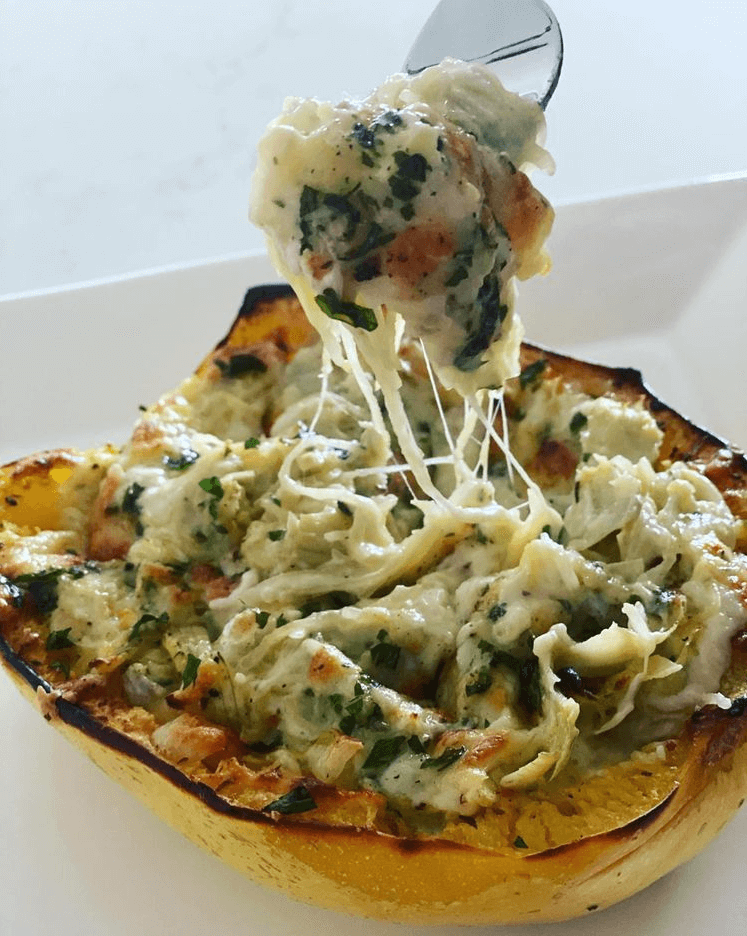 I really like to use a whole package of fresh spinach in one recipe.
Whether it's on a tasty pizza, stuffed with peppers, tossed in a healthy salad or mixed in with cheese sauce, I get an epic sense of accomplishment if I can get the whole package to fit in my face somehow.
Spinach is never really wasted here, but the margin for error is much smaller if you use every little piece of that spinach can.
No lost leaves to accidentally forget, no empty box that would take up a quarter of the precious space in the fridge, and no bags of spinach growing next to that partially chopped onion that you also forgot… haha not that I know from experience or anything.
Okay, fine, I've been there! Didn't we all?
Plus, if you use the whole package, not only do you make Popeye proud, but I'm sure your parents can sense that you're eating a whole boatload of vegetables and they're super happy about it.
Do it for the parents! Eat all the spinach!
We can start with this spaghetti squash stuffed with cheese. MUFFLED!
Ingredients
1 medium spaghetti squash
2.5 Chopped garlic TBSP
1 tsp. olive or avocado oil
5 oz fresh spinach, chopped
1/2 cup of cream
1 TBSP cream cheese (optional, but no taste!)
1/2 cup freshly grated Parmesan cheese, extra for garnish
salt and pepper to taste
grated or sliced mozzarella cheese for garnish, to taste
Instructions
Preheat the oven to 400 degrees F.
Cut your spaghetti squash in half lengthwise and remove the seeds. To make cutting easier, do not hesitate to put each squash in the microwave for 5 minutes to soften it a little. The knife slides more easily this way!
Next, take a lip baking tray or a rimmed baking dish.
Rub the cut side of the squash with a little bit of olive oil.
Place it in a baking dish or rimmed baking tray and roast it face down for 30 to 40 minutes, or until tender and easy to pierce with a fork. Cooking time varies slightly depending on the size of the squash, and the outside of the squash, which used to be very hard, will be visibly softened.
The squash can be roasted and stored in the refrigerator for a few days if you want to prepare your meal and plan a quicker dinner.
While the squash is roasting, start preparing the sauce.
In a medium saucepan or frying pan, bring a drizzle of olive oil over medium-high heat and sauté the garlic until fragrant.
Then add the spinach and stir until wilted. Add your cream, cream cheese (totally optional but totally tasty) and parmesan cheese and stir well.
Add salt and pepper to taste and remove from heat.
Once the squash is roasted, let it cool until it is easy to handle or put it on a oven mitt and use a fork to separate and swell the spaghetti squash strands.
Pour your sauce over each squash, stir to mix, and garnish with a little mozzarella and extra parmesan cheese, if desired.
Bake in the oven at 350 degrees F for about 20 minutes or until the sauce is hot and bubbling.
For a golden cheese topping, turn your oven over and broil on high for just a minute or two until lightly browned.
Dig
Source: allrecipes.com