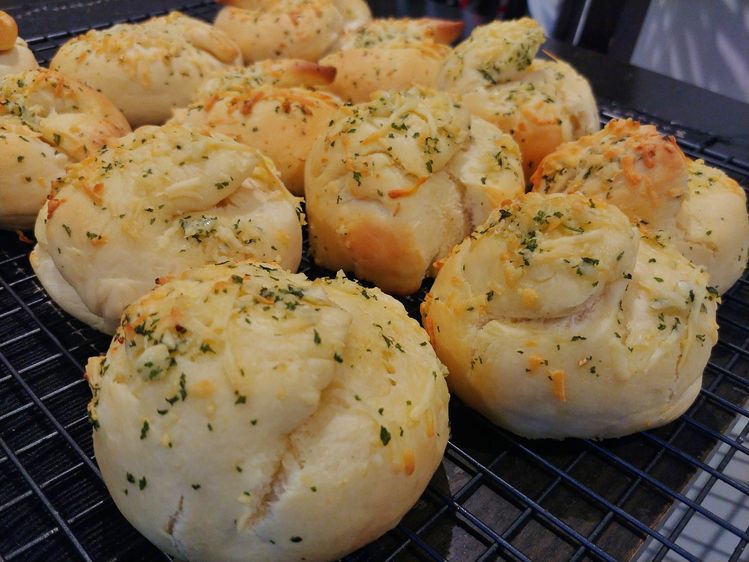 I posted yesterday. They were dangerously delicious! I could have eaten the whole casserole of these puppies by myself. Luckily, I had some self-control. I used Johnny's Garlic Seasoning that I bought at Costco last week. If you don't have Johnny's Garlic Seasoning, just use another brand of garlic bread seasoning. These buns are super easy and super tasty!
Okay, okay, I know they are not really cupcakes in the technical sense but they are made in a cupcake pan.  Also, they are ridiculously easy and delicious as cupcakes are, so I decided to share the recipe.  The plain chicken has been seasoned with garlic by Costco, but any garlic bread seasoning will do.  Or make your own.  But don't eat them all at the same time!
Ingredients
1 box (12 pieces) of refrigerated breadsticks
1/4 cup butter, softened
1 teaspoon garlic bread seasoning (Johnny's)
1 tablespoon grated Parmesan cheese
grated parmesan cheese
Itinerary
Preheat the oven to 400.
Lightly spray a 12-cup muffin pan with cooking spray.
Combine softened butter, garlic bread seasoning and 1 tbsp. grated Parmesan cheese. Roll out bread sticks and separate into individual bread sticks. Spread garlic butter on each bread stick. Roll up and place in muffin pan. Sprinkle each baguette with grated or shredded Parmesan cheese.
Bake for 12-15 minutes, until golden brown.