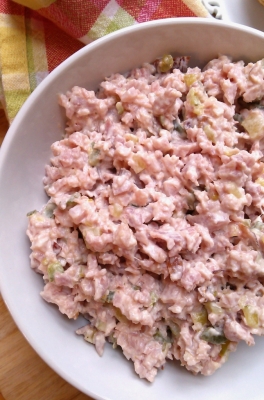 I made the recipe for my kids while they were growing up & they still love it. Sweet relish and eggs round out the flavor of bologna in this simple but delicious spread. Serve it on cocktail toast, or use it in sandwiches. The amount of egg, creamy salad dressing and relish should be adjusted to taste.
Oh wow! I thought my grandmother was the only one to make this stuff. If my dad and I are visiting at the same time, you'll always find one of us sneaking to the kitchen to get a bit of it.
Our entire family enjoys this reipe! I like the amount of eggs give (I could never get it right before!) And I like the information on how to boil the eggs.
My mother used to make this for us, for sandwiches. Instead of salad dressing, she used mayo & mixed everything up the same. I, also, have been feeding this to my family for years. It's just so good & great on crackers too.
Ingredients :
1 lb.bologna
4 boiled eggs
3-4 sweet pickles
Salad dressing or mayo
Directions :
Grind bologna,( I just diced it real small then take a fork and mash it the rest of the way) eggs and pickles.
Mix together and add enough salad dressing or mayo to moisten.
Source : allrecipes.com