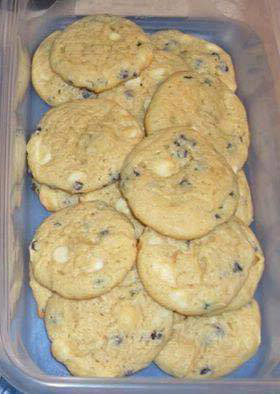 These Blueberry Cheesecake Cookies are made with a secret ingredient– blueberry muffin mix! They're perfectly chewy and studded with white chocolate chips!
It's summer and that means fresh fruit like peaches, strawberries and blueberries!
Well, unfortunately, Nick and I seem to have missed blueberry season. From what I've been told, there's a great blueberry farm nearby. But in the craziness of this summer, by the time we planned a trip out there, they were all picked out!
But never fear. Thanks to a secret ingredient in these cookies, you can get your blueberry fix any time of the year! They may not be fresh, plump summer berries, but oh my are they good.
These cookies were awesome and so different from your typical chocolate chip. They tasted like a blueberry muffin, but in cookie form (meaning, one hundred times better). Everyone loved them and they didn't last long!
Ingredients:
2 boxes Jiffy Blueberry Muffin mix
4 oz. cream cheese
1 stick "I Can't Believe It's Not Butter"
Please continue to Next Page (>) for the full list of ingredients and complete cooking instructions.