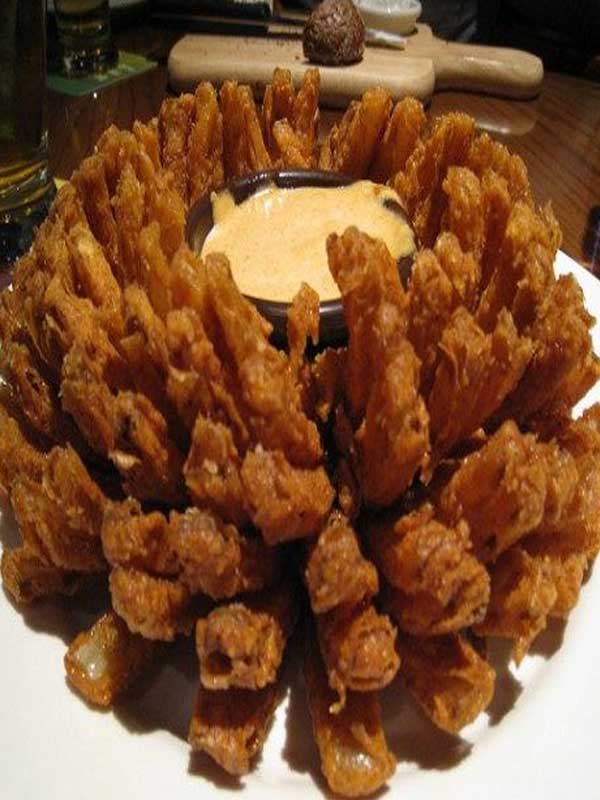 There's a good reason for that. The Outback Steakhouse Blooming Onion (or "Bloomin' Onion") restaurant is very popular. It consists of a large sweet Vidalia onion that is cut to look like a flower, breaded and fried. It is served as an appetizer with a hot sauce at Outback Steakhouses – and they claim it is the most popular appetizer in America.
Now you can make it at home anytime, anyplace, for a fraction of the price, thanks to the flowered onion recipe from Outback Steakhouse's "Secret Copycat Restaurant Recipes" blog.
The Outback Steakhouse claims to be the inventor of the dish. However, the owners of Scotty's Steak House in Springfield, New Jersey, claim to have invented the dish in the 1970s. The dish was a hallmark of the Outback Steakhouse restaurant chain when it opened in 1988, and it still features prominently on its menu. Its popularity led to its adoption as an entrée at various other restaurant chains, including Lone Star Steakhouse & Saloon, where it is better known as "Texas Rose".
All versions of the floral onion are usually served with a restaurant specific dipping sauce.
Despite the implicit association with Australian cuisine due to the Outback Steakhouse brand, the dish is unknown in Australia and rarely served outside the United States.
Servings 8 servings
Calories 267 kcal
INGREDIENTS
1 large white onion
2 1/2 cups all-purpose flour
2 tablespoons paprika
1 teaspoon cayenne pepper
1 teaspoon garlic powder
1/2 teaspoon oregano
salt and pepper to taste
2 large eggs
1 1/2 cups milk
1 quart vegetable oil
Chipotle, Thousand Island or other dipping sauce optional
INSTRUCTIONS
In a medium bowl, combine flour, spices, salt and pepper. Reserve.
In another medium bowl, whisk together eggs and milk until combined. Set aside.
Cut off ½-inch from the pointy end of the onion while leaving the other end of root intact. Then remove the papery skin.
Place the onion cut-side down on a cutting board. Starting ¾-inch from the root, cut vertically downward all the way to the board using a sharp knife.
Repeat vertical cuts downward about 1/2-inch apart on the edge, taking care not to overlap with previous cuts. You should get 10-15 cuts in total.
Turn the onion over and gently open up the "petals" of the onion with your fingers until it resembles a flower. Set aside.
Dip the onion into reserved flour mixture to cover completely. Then gently shake off excess flour.
Gently dip into reserved egg mixture to cover completely. For best results, let the onion soak in the batter for 10 minutes.
Return onion to the flour mixture one more time and cover completely.
Place the onion on a plate and freeze for 30-60 min to set.
Fill a deep fryer or medium saucepan with 3 inches of oil and heat to 350°F. Line a plate with paper towel and set aside.
Fry onion for 3-4 minutes until golden brown. Then turn it over using a slotted spoon and cook several minutes more until golden brown.
Remove onion to a prepared plate. Serve with optional dipping sauce and enjoy!
RECIPE TIPS
You'll find it helpful to watch the video for this recipe before making it.
For the dipping sauce, you can mix Thousand Island dressing with creamy horseradish sauce, adjusting the amount of horseradish depending on how much heat you want.
NEW RECIPES: HERE