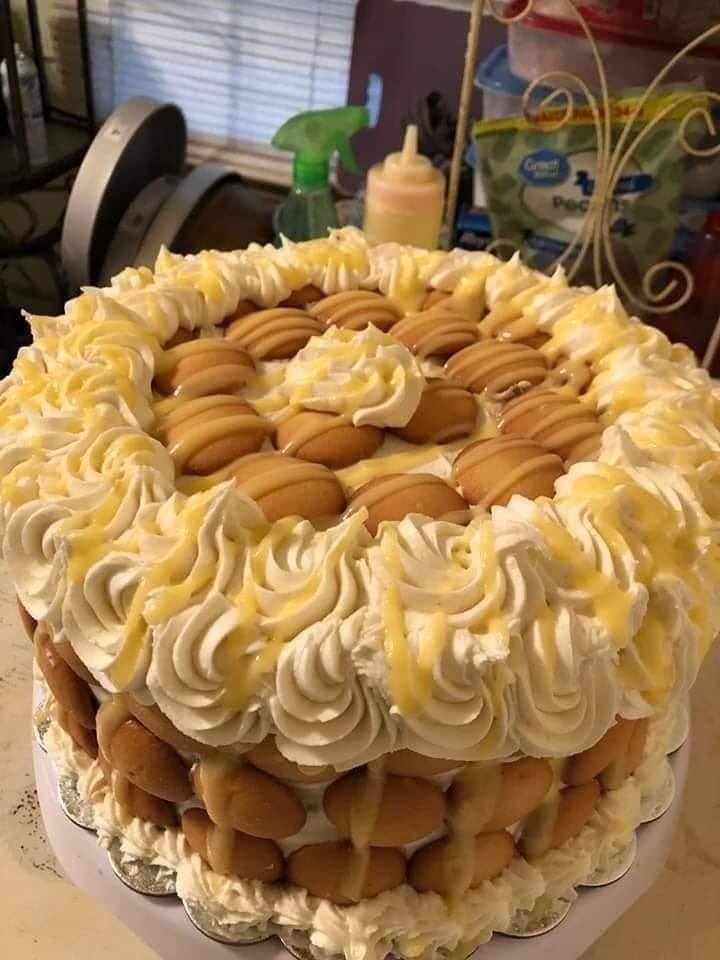 Banana Pudding Cake is a fun variation of our favourite summer staple, making your dose even easier to get. All the classic ingredients of banana pudding wrapped in an addictive cake!
Hi everyone! It's Kellie from The Suburban Soapbox again and I'm addicted to Banana Pudding. I guess there are worse things than being an addict, but I love making banana pudding (and of course banana bread) because it's so easy to make and you can play with the flavours endlessly by making your own versions, like this chocolate banana pudding that I could just dive into right now.
Banana pudding is such a great dessert to make for summer that I thought…why not turn this southern classic into a Banana Pudding CAKE!!
Let me tell you…this Banana Pudding Cake is one of the best recipes I have ever made. And it may even be a little easier than the Banana Pudding itself.
Yes, of course, you have to turn on the oven but it's not that bad because I used a canned cake mix, so this recipe is not complicated at all.
What is banana pudding?
Classic banana pudding is a southern dessert made with layers of sweet banana or vanilla custard, crushed cookies and banana slices topped with whipped cream (you can find our favourite banana pudding recipe here). It is usually served in a baking dish and appears especially during the summer months as a no-bake dessert.
I really wanted to make sure that the flavour of a classic banana pudding recipe was present in the cake, so I made this cake into a Banana Pudding Poke Cake! This allowed the banana pudding to sink deep into the holes and turn the cake into a moist banana paradise.
What is a Poke Cake? And how do you make a Banana Pudding Cake?
A "Poke Cake" is exactly what it sounds like…a baked cake in which you poke holes after baking. The holes are then filled with a custard, jelly or pudding that is poured over the cake while it is still warm. This allows the flavours to infuse the cake and keep it moist.
Ingredients :
1 box yellow cake mix
1 (3.5 oz.)package instant banana cream pudding mix.
4 eggs
1/4 cup oil
1 cup water
1 cup mashed bananas
Optional: 2 cup mini chocolate chips
Icing:
2 cups powdered sugar
2 Tablespoons butter, melted
2 Tablespoons milk
1 teaspoon vanilla
dash of salt
Directions :
Preheat oven to 350 degrees. Spray a bundt pan with cooking spray. Add cake mix and pudding mix to a large bowl. Add eggs, oil, water and mashed bananas. Beat on low speed until blended. Then beat on medium speed for 4 minutes. (Stir in chocolate chips if desired.) Pour into prepared pan.
Bake for 50-55 minutes or until cake springs back when lightly touched.
Let cool in pan for 10 minutes. Then turn out on to a wire rack and cool completely.
Make the icing:
In a small bowl combine ingredients and whisk until smooth and of a drizzling consistency. If it is too thick add a little more milk. When cake is cooled, drizzle icing over the cake in a zigzag motion.
I think I will enjoy a slice!
Oh YUM!!
Source : allrecipes.com