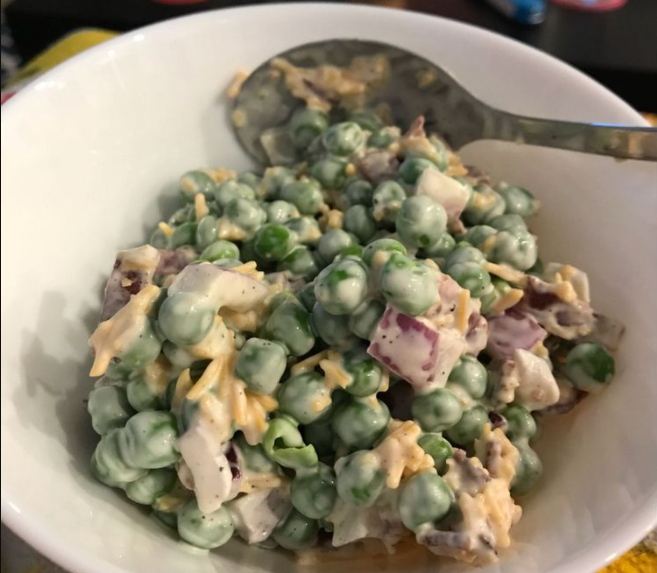 This easy salad came about in an attempt to satisfy my son who loves peas and my husband who doesn't. It has become a huge hit. You may want to double the recipe if you want any leftovers!
Great Recipe…I had tasted a great pea salad at a pot luck get together and was looking for a good recipe that seemed close. This was even better. I used a little less bacon (5 slices for a double recipe) because I had thick sliced bacon.
I have a son who hates vegetables so I am always on the lookout for new ways to try them. (I had to leave out the onions because he will not eat ANYTHING with onions.) This was a huge hit and is now a staple in our menu plans.
Try adding a touch of garlic powder to this (to taste). This salad is excellent. You can also put in a sweet red onion for a sweeter taste. Thanks for sharing…A keeper!
This pea salad is delicious! Not a big fan of ranch dressing but it all worked so well together. My whole family loved it!
This was wonderful really easy and liked by all. It gets better with time. I put it on a bed of lettuce. I used mayo mixed with salt pepper a dash of vinegar and sugar and fresh chives.
Ingredients :
(4) slices bacon
1-quart water
1 (16 oz) package frozen green peas
⅓ cup chopped onions
½ cup Ranch dressing
½ cup shredded Cheddar cheese
Directions :
Put bacon in a skillet over medium-high heat, and cook until evenly brown. Drain, crumble, and set aside.
Let a pot with water boil. Then boil the peas a minute, until just tender, and drain. Then cool peas under cold running water.
In a bowl, add and toss bacon, peas, onion, Ranch dressing, and Cheddar cheese, and then refrigerate it for 30 minutes or until chilled before serving.
Note :
In my view, this Bacon Ranch Pea Salad is best within a few hours of making it. Some of the people I know do make this, however, and their families prefer it the next day. It will take up some of the moisture and flavors if you do it the day before. But if you're preparing it ahead, before serving, you'll want to add extra sour cream, mayo, or ranch dressing. It is just about personal choice because both are nice ways.